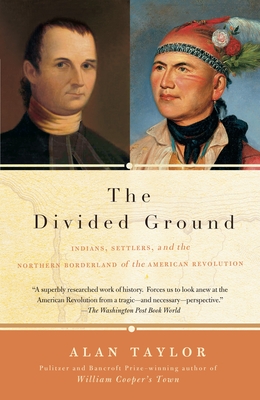 The Divided Ground: Indians, Settlers, and the Northern Borderland of the American Revolution (Paperback)
Indians, Settlers, and the Northern Borderland of the American Revolution
Vintage, 9781400077076, 560pp.
Publication Date: January 9, 2007
Description
From the Pulitzer Prize-winning author of William Cooper's Town comes a dramatic and illuminating portrait of white and Native American relations in the aftermath of the American Revolution.
The Divided Ground tells the story of two friends, a Mohawk Indian and the son of a colonial clergyman, whose relationship helped redefine North America. As one served American expansion by promoting Indian dispossession and religious conversion, and the other struggled to defend and strengthen Indian territories, the two friends became bitter enemies. Their battle over control of the Indian borderland, that divided ground between the British Empire and the nascent United States, would come to define nationhood in North America. Taylor tells a fascinating story of the far-reaching effects of the American Revolution and the struggle of American Indians to preserve a land of their own.
About the Author
Alan Taylor received his B.A. from Colby College and his Ph.D. from Brandeis University. He has taught at Colby College, the College of William & Mary, Boston University, and the University of California at Davis, where he is Professor of History. He is the author of Liberty Men and Great Proprietors: The Revolutionary Settlement on the Maine Frontier, 1760-1820 (1990); William Cooper's Town: Power and Persuasion on the Frontier of the Early American Republic (1996), and American Colonies: The Settlement of North America (The Penguin History of the United States, Vol. 1, 2001).
Praise For The Divided Ground: Indians, Settlers, and the Northern Borderland of the American Revolution…
"A superbly researched work of history... forces us to look anew at the American Revolution from a tragic –and necessary –perspective"—The Washington Post Book World"Meticulously researched...by immersing us in its details Taylor makes us see the Iroquois as active shapers of American history, and their struggle to keep their homeland as part of our shared American past."—San Diego Union-Tribune"In this dramatic, precise account [Taylor] describes an American Revolution with dire consequences for native peoples. . . fascinating. . . .[A] stunningly alternative American Revolution."—The Boston Globe"Formidably researched, and display[s] a breathtaking intellectual understanding."—The Denver Post
Advertisement