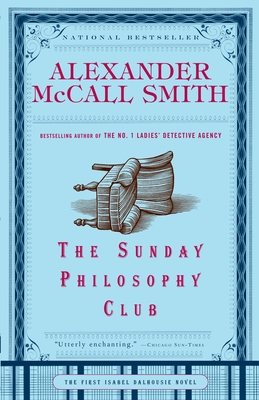 The Sunday Philosophy Club (Isabel Dalhousie Series #1)
Paperback

* Individual store prices may vary.
Other Editions of This Title:
Digital Audiobook (10/5/2004)
Audio Cassette (9/1/2004)
Hardcover (4/1/2005)
Hardcover, Large Print, Large Print (9/28/2004)
Compact Disc (3/31/2006)
Hardcover (9/28/2004)
Description
ISABEL DALHOUSIE - Book 1
 
Nothing captures the charm of Edinburgh like the bestselling Isabel Dalhousie series of novels featuring the insatiably curious philosopher and woman detective.  Whether investigating a case or a problem of philosophy, the indefatigable Isabel Dalhousie, one of fiction's most richly developed amateur detectives, is always ready to pursue the answers to all of life's questions, large and small.


In this first installment, Isabel is attending a concert in the Usher Hall when she witnesses a man fall from the upper balcony. Isabel can't help wondering whether it was the result of mischance or mischief. Against the best advice of her no-nonsense housekeeper Grace, her bassoon playing friend Jamie, and even her romantically challenged niece Cat, she is morally bound to solve this case. Complete with wonderful Edinburgh atmosphere and characters straight out of a Robert Burns poem, The Sunday Philosophy Club is a delightful treat from one of our most beloved authors.
Praise For The Sunday Philosophy Club (Isabel Dalhousie Series #1)…
"Genial.... Wise.... Glows like a rare jewel." —Entertainment Weekly
 
"The literary equivalent of herbal tea and a cozy fire. . . . McCall Smith's Scotland [is] well worth future visits." —The New York Times
 
"In Mma Ramotswe, [McCall Smith] minted one of the most memorable heroines in any modern fiction. Now, with the creation of Isabel Dalhousie . . . he's done it again. . . . She's such good company, it's hard to believe she's fictional. You finish this installment greedily looking forward to more." —Newsweek
 
"Charmingly told. . . . Its graceful prose shines, and Isabel's interior monologues—meditations on a variety of moral questions—are bemused, intelligent and entertaining." —The Seattle Times
 
"Endearing. . . . Offers tantalizing glimpses of Edinburgh's complex character and a nice, long look into the beautiful mind of a thinking woman." —The New York Times Book Review
 
"Fans of Alexander McCall Smith's No. 1 Ladies' Detective Agency novels will delight in this new series, featuring as its heroine the tart-tongued, tartan-clad problem-solver Isabel Dalhousie. The book club will love it." —Life
 
"Whimsical. . . . [A] memorable cast of characters. . . . McCall Smith's assessments of fellow humans are piercing and profound. . . . [His] depictions of Edinburgh are vivid and seamless. . . . His fans . . . are sure to embrace these moral peregrinations among the plaid." —San Francisco Chronicle
 
"A mystery of moral responsibility and manners . . . [with] memorable minor characters, [an] intriguing, troubled heroine, local color and bracing Scottish patter." —Newsday
 
"Habit-forming. . . .The Sunday Philosophy Club leaves plenty of time for pondering moral conundrums, the drinking of steaming cups of hot brew (coffee, in this case) and . . . gentle probing into the human condition." —The Oregonian
 
"So believable. . . . The great pleasures of [The Sunday Philosophy Club] have to do with Smith's wry, gentle writing applied to intriguing plots more curious or humorous than dramatic. . . . Precious Ramotswe has found a kindred spirit." —The Columbus Dispatch
 
"Alexander McCall Smith has become one of those commodities, like oil or chocolate or money, where the supply is never sufficient to the demand. . . . [He] is prolific and habit-forming. . . . [His] gift, one of them, is to inspire an eagerness to follow. . . . McCall Smith has done his job. Isabel lives. A series is born." —The Globe and Mail (Toronto)
 
"Like walking down the street with an amazingly literate, thoughtful, witty and self-deprecating friend through a city that friend knows and loves well." —The Times-Picayune (New Orleans)
 
"Skillfully written. . . . Smith's Scotland . . . is a place where a profound, humane intelligence is at work." --New York Daily News
 
"Mr. Smith, a fine writer, paints his hometown of Edinburgh as indelibly as he captures the sunniness of Africa. We can almost feel the mists as we tread the cobblestones." —The Dallas Morning News
 
"Memorable. . . . The Sunday Philosophy Club will delight McCall Smith's existing fans and win him some new ones." —St. Louis Post-Dispatch
 
"Charming. . . . Suspenseful. . . . A pleasant introduction to a woman readers will want to know more about." —Detroit Free Press
 
"A quiet mystery aimed in equal parts at the head and the heart." —The Patriot News (Harrisburg, PA)
 
"Devotees of Smith's No. 1 Ladies' Detective Agency series are certain to enjoy these new people and this new place. . . . To know Isabel Dalhousie is to like and admire her." —Chicago Tribune
 
"Readers will be immediately smitten with the interplay between the philosopher, her tradition-bound housekeeper Grace and her unlucky in-love niece Cat." —Ft. Myers News-Press
 
"An elegant mystery filled not with dead bodies but an air of gentle refinement, intelligence and insight. . . . Isabel is a true original." —Orlando Sentinel
Anchor, 9781400077090, 272pp.
Publication Date: July 12, 2005
About the Author
Alexander McCall Smith is the author of the huge international phenomenon, The No. 1 Ladies' Detective Agency, and The Sunday Philosophy Club series. He was born in what is now known as Zimbabwe and he was a law professor at the University of Botswana and at Edinburgh University. He lives in Scotland, where in his spare time he is a bassoonist in the RTO (Really Terrible Orchestra).
Isabel Dalhousie is a single, wealthy, literary woman of settled habits with a strong interest in moral behavior. In what ways is she a model female sleuth, and in what ways is she a surprising one? How does she compare with other female detectives in literature?
Cat is annoyed at Isabel's tendency to get involved in things that are none of her business. Isabel insists, on the other hand, that the man who fell from the balcony entered her "moral space"—and that she therefore has a moral obligation to him. Is Isabel correct in arguing for proximity as a basis for moral claims?
Isabel raises the question of unequal desire in love when she reflects, "We do not like those who are completely available, who make them­selves over to us entirely." Do you feel this accurately reflects Cat's emotional reaction to Jamie? Does this explain Isabel's continuing interest in John Liamor?
Why is the novel called The Sunday Philosophy Club, if the club seems to be purely notional, never having met? Are readers the members of this club, as if by reading the novel they are entering into Isabel's mind, which is constantly engaged in philosophical questioning?
It is Neil who comes to Isabel and tells her of Mark Fraser's knowledge of insider trading at his firm, thus turning the case into an investigation of a murder. How surprising is the ultimate revelation of how Mark died, and why? How is the crime's solution linked to the theme of truth and honesty?
The Edinburgh setting is a crucial element of The Sunday Philosophy Club. It is a city where respectability is highly valued, but, according to Isabel, is also built on hypocrisy. Is Isabel an exemplary product of Edinburgh's Protestant bourgeoisie, or not?  What aspects of her life, or her character, place her in the position of outsider?  Who in the text best represents traditional Scots respectability?