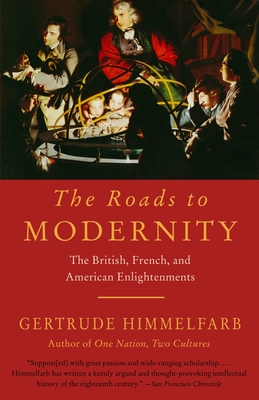 The Roads to Modernity: The British, French, and American Enlightenments (Paperback)
The British, French, and American Enlightenments
Vintage, 9781400077229, 304pp.
Publication Date: August 9, 2005
Description
In an elegant, eminently readable work, one of our most distinguished intellectual historians gives us a brilliant revisionist history. The Roads to Modernity reclaims the Enlightenment-an extraordinary time bursting with new ideas about human nature, politics, society, and religion--from historians who have downgraded its importance and from scholars who have given preeminence to the Enlightenment in France over concurrent movements in England and America.Contrasting the Enlightenments in the three nations, Himmelfarb demonstrates the primacy and wisdom of the British, exemplified in such thinkers as Adam Smith, David Hume, and Edmund Burke, as well as the unique and enduring contributions of the American Founders. It is their Enlightenments, she argues, that created a social ethic-humane, compassionate, and realistic-that still resonates strongly today, in America perhaps even more than in Europe.The Roads to Modernity is a remarkable and illuminating contribution to the history of ideas.
About the Author
Gertrude Himmelfarb taught for twenty-three years at Brooklyn College and the Graduate School of the City University of New York, where she was named Distinguished Professor of History in 1978. Now Professor Emeritus, she lives with her husband, Irving Kristol, in Washington, D.C. Her previous books include The De-Moralization of Society: From Victorian Virtues to Modern Values; On Looking into the Abyss: Untimely Thoughts on Culture and Society; Poverty and Compassion: The Moral Imagination of the Late Victorians; The New History and the Old; Marriage and Morals Among the Victorians; The Idea of Poverty: England in the Early Industrial Age; On Liberty and Liberalism: The Case of John Stuart Mill; Victorian Minds (nominated for a National Book Award); Darwin and the Darwinian Revolution; and Lord Acton: A Study in Conscience and Politics. From the Hardcover edition.
Praise For The Roads to Modernity: The British, French, and American Enlightenments…
"Support[ed] with great passion and wide-ranging scholarship. . . . Himmelfarb has written a keenly argued and thought-provoking intellectual history of the 18th century." –San Francisco Chronicle

"Exciting intellectual pugilism É Himmelfarb mounts a vigorous argument that the British [Enlightenment] was reformist rather than subversive, respectful of the past and present even while looking forward to a more egalitarian future." –The New York Times Book Review

"[Himmelfarb's] writing . . . has a verve and sharpness. . . . It is a pleasure to read." –The New York Review of Books

"Exceptionally well written and clever."–The Washington Post Book World

"Himmelfarb has one of the keenest intellects of our time." –The Houston Chronicle
Advertisement