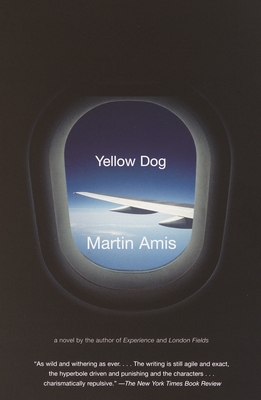 Yellow Dog (Vintage International) (Paperback)
Vintage, 9781400077274, 352pp.
Publication Date: January 4, 2005
Other Editions of This Title:
Hardcover (11/5/2003)
Paperback (5/1/2004)
* Individual store prices may vary.
Description
Brilliant, painful, dazzling, and funny as hell, Yellow Dog is Martin Amis' highly anticipated first novel in seven years and a stunning return to the fictional form.

When "dream husband" Xan Meo is vengefully assaulted in the garden of a London pub, he suffers head injury, and personality change. Like a spiritual convert, the familial paragon becomes an anti-husband, an anti-father. He submits to an alien moral system -- one among many to be found in these pages. We are introduced to the inverted worlds of the "yellow" journalist, Clint Smoker; the high priest of hardmen, Joseph Andrews; and the porno tycoon, Cora Susan. Meanwhile, we explore the entanglements of Henry England: his incapacitated wife, Pamela; his Chinese mistress, He Zhezun; his fifteen-year-old daughter, Victoria, the victim of a filmed "intrusion" that rivets the world -- because she is the future Queen of England, and her father, Henry IX, is its King. The connections between these characters provide the pattern and drive of Yellow Dog.

If, in the 21st century, the moral reality is changing, then the novel is changing too, whether it likes it or not. Yellow Dog is a model of how the novel, or more particularly the comic novel, can respond to this transformation.

But Martin Amis is also concerned here with what is changeless and perhaps unchangeable. Patriarchy, and the entire edifice of masculinity; the enormous category-error of violence, arising between man and man; the tortuous alliances between men and women; and the vanished dream (probably always an illusion, but now a clear delusion) that we can protect our future and our progeny.

Meo heard no footsteps; what he heard was the swish, the shingly soft-shoe of the hefted sap. Then the sharp two-finger prod on his shoulder. It wasn't meant to happen like this. They expected him to turn and he didn't turn -- he half-turned, then veered and ducked. So the blow intended merely to break his cheekbone or his jawbone was instead received by the cranium, that spacey bulge (in this instance still quite marriageably forested) where so many delicate and important powers are so trustingly encased.

He crashed, he crunched to his knees, in obliterating defeat. . . . -- from Yellow Dog
About the Author
Martin Amis' most recent book was Koba the Dread. He lives in London.
Praise For Yellow Dog (Vintage International)…
"[Yellow Dog is] raucously funny, relentlessly fast-paced, delightfully intricate. . . . A marvelous novel, a powerful book, a work of pain and madness and love . . . a work of seriousness. A work of beauty." –Baltimore Sun

"Amis is a force unto himself. . . . There is, quite simply, no one else like him." –The Washington Post Book World

"Fizzingly intelligent . . . . mind-tinglingly good . . . Like all great writers, [Amis] seems to have guessed what you thought about the world, and then expressed it far better than you ever could. . . . As he probes a human world increasingly disconnected from itself, Amis has found a subject to match the tessellated polish of his style. Here it all adds up." –The Observer

"Viciously funny . . . zingingly vivid." –The Spectator

"Brilliant and hilarious, and the insights into contemporary culture are disturbingly prescient. . . . A novel of many pleasures–and a novel to be reckoned with." –Publishers Weekly

"Martin Amis [has] come back kicking and screaming." –San Francisco Chronicle

"Martin Amis at his best, in all his shifting registers, his drolleries and ferocities, his unsparing comic drive, his aesthetic dawdlings and beguilements, his wry, confident relish of his own astonishing effects." –The Guardian