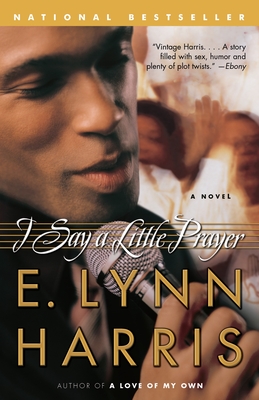 I Say a Little Prayer (Paperback)
Anchor Books, 9781400077281, 295pp.
Publication Date: August 21, 2007
Description
A USA Today, New York Times, Washington Post BestsellerChauncey Greer, the suave and successful owner of the Cute Boy Greeting Card Company, never wants for the attention of guys just as hot as he is. After a couple of bad dates Chauncey finds himself in church, where the minister's message inspires him to return to the singing career he had launched as a teenager. Things heat up when Chauncey's rediscovered singing talent lands him in the middle of a protest over homophobia in the black church, and Chauncey's old singing partner-and former lover-makes a dramatic and unexpected entrance.
About the Author
E. Lynn Harris was born in Flint, Michigan and raised, along with three sisters, in Little Rock, Arkansas. Harris sold computers for IBM, Hewlett-Packard, and AT&T for 13 years while living in Dallas, Washington, D.C. and Atlanta. He finally quit his sales job to write his first novel, Invisible Life, and, failing to find a publisher, he published it himself in 1991 before he was "discovered" by Anchor Books. Anchor published Invisible Life as a trade paperback in 1994. Invisible Life was followed by Just As I Am (1994), And This Too Shall Pass (1996), If This World Were Mine (1997), and Abide With Me (1999), all published by Doubleday. Harris's sixth novel, Not A Day Goes By (July 2000) debuted at #2 on the New York Times bestseller list. His seventh novel, Any Way the Wind Blows (July 2001), also debuted at #2 on the New York Times bestseller list. His most recent novel, A Love of My Own (July 2002), was a national bestseller as well. What Becomes Of The Brokenhearted (July 2003), Harris's first non fiction work, debuted at #6 on the New York Times bestseller list making E. Lynn the first African American male to appear on both the fiction and non-fiction lists. Currently, there are over three million copies of Harris's novels in print. For more: www.elynnharris.com
Praise For I Say a Little Prayer…
"Vintage Harris...A story filled with sex, humor and plenty of plot twists."—Ebony"From naked cocktail parties to religious conundrums, the "Godfather of the Down Low" gives you just the right amount of raunchiness and redemption in his latest." —Upscale "Heartfelt." —Essence"Harris's addictive latest...capture[s] both the erotic heat and spiritual fervor of Chauncey's world....[A] moving and honest exploration of sex, sin, and redemption." —Kirkus"What's got audiences hooked? Harris's unique spin on the ever-fascinating topics of identity, class, intimacy, sexuality, and friendship." —Vibe"Thank God for E. Lynn Harris." —Philadelphia Inquirer"The man who helped put the down low on the cultural map returns with another sexy page-turner." —Out
Advertisement