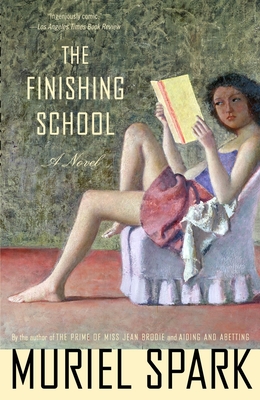 The Finishing School (Paperback)
Anchor Books, 9781400077397, 181pp.
Publication Date: November 8, 2005
Description
From Muriel Spark, the grande dame of literary satire, comes this swift, deliciously witty tale of writerly ambition that recalls her beloved The Prime of Miss Jean Brodie.College Sunrise is a somewhat louche and vaguely disreputable finishing school located, for now, in Lausanne, Switzerland. Rowland Mahler and his wife, Nina, run the school as a way to support themselves while he works, somewhat falteringly, on his novel. Into Rowland's creative writing class comes seventeen-year-old Chris Wiley, a red-haired literary prodigy whose historical novel-in-progress, on Mary Queen of Scots, has already excited the interest of publishers. The inevitable result: keen envy, and a game of cat and mouse fraught with jealousy and attraction, both literary and sexual.
About the Author
MURIEL SPARK was born in Edinburgh, Scotland, in 1918. She is the author of over twenty novels as well as collections of short stories. Her most celebrated works include "The Prime of Miss Jean Brodie" (1961), "Loitering with Intent" (1981), "The Comforters" (1957), "The Public Image" (1968), "The Girls of Slender Means" (1963), "The Driver s Seat" (1970) and "Aiding and Abetting" (2001). She was awarded the OBE in 1993 and is a Dame of the British Empire. She has also been awarded the honorary degree of Doctor of Letters by the University of Edinburgh, as well as the James Tait Black Memorial Prize. She lives in Tuscany."
Praise For The Finishing School…
"An empress of literary sleight of hand. . . . What grace and beauty she's still displaying during the golden days and starlit nights of her absolutely marvelous career." –The Washington Post"Ingeniously comic. . . . Spark has packed a multitude of twists and turns into this relatively brief novel, and the action skims along merrily from one surprising revelation to the next." –Los Angeles Times Book Review"The Finishing School has all the ingredients of her best-known fiction." –The New York Times"Delicious. . . . A deft new comic novel. . . . Spark remains a master of quick-stroke portraiture and trenchant moral investigation." –The Seattle Times"A youthful academic comedy. . . . Her style . . . remains as sharp, even shocking, as it's always been." –The New York Times Book Review
Advertisement