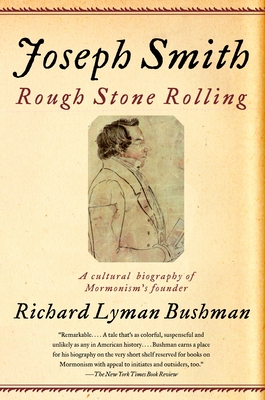 Joseph Smith (Paperback)
Rough Stone Rolling
Vintage, 9781400077533, 784pp.
Publication Date: March 13, 2007
Other Editions of This Title:
Compact Disc (1/24/2018)
Hardcover (9/27/2005)
MP3 CD (1/24/2018)
* Individual store prices may vary.
Description
Founder of the largest indigenous Christian church in American history, Joseph Smith published the 584-page Book of Mormon when he was twenty-three and went on to organize a church, found cities, and attract thousands of followers before his violent death at age thirty-eight. Richard Bushman, an esteemed cultural historian and a practicing Mormon, moves beyond the popular stereotype of Smith as a colorful fraud to explore his personality, his relationships with others, and how he received revelations. An arresting narrative of the birth of the Mormon Church, Joseph Smith: Rough Stone Rolling also brilliantly evaluates the prophet's bold contributions to Christian theology and his cultural place in the modern world.
About the Author
Richard L. Bushman was born in Salt Lake City, Utah, in 1931. He took his B.A., M.A., and PhD. degrees at Harvard University. He has taught at Brigham Young University, Boston University, University of Delaware, and Columbia University, where he is currently Gouverneur Morris Professor of History, Emeritus. His previous books are From Puritan to Yankee: Character and Social Order in Connecticut, 1690-1765 (1967), Joseph Smith and the Beginnings of Mormonism (1984), King and People in Provincial Massachusetts (1985), and The Refinement of America: Persons, Houses, and Cities (1992).
Praise For Joseph Smith: Rough Stone Rolling…
"Remarkable. . . . A tale that's as colorful, suspenseful and unlikely as any in American history...Bushman earns a place for his biography on the very short shelf reserved for books on Mormonism with appeal to initiates and outsiders, too."—The New York Times Book Review"A fascinating definitive biography. . . . Stirs deeper questions about American religious convictions and how they shape lives and culture." —The Christian Science Monitor"An exhaustively researched and beautifully written biography of Mormonism's enigmatic founder."—Christianity Today"Fascinating. . . .Bushman captures all the harrowing events of Smith's short life, rife with converts and cabals, while meticulously dissecting the revelations that continue to haunt the Smith story." —The Providence Journal"Well-researched and lucidly written. . . . An excellent source for learning about the Mormon faith." —The St. Louis Post-Dispatch