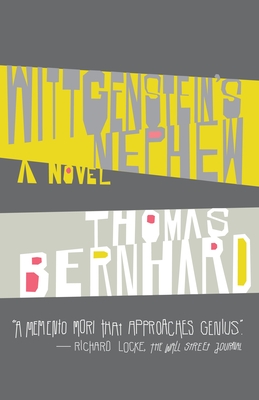 Wittgenstein's Nephew
A Novel (Vintage International)
Paperback

* Individual store prices may vary.
Description
It is 1967. In separate wings of a Viennese hospital, two men lie bedridden. The narrator, named Thomas Bernhard, is stricken with a lung ailment; his friend Paul, nephew of the celebrated philosopher Ludwig Wittgenstein, is suffering from one of his periodic bouts of madness. As their once-casual friendship quickens, these two eccentric men begin to discover in each other a possible antidote to their feelings of hopelessness and mortality—a spiritual symmetry forged by their shared passion for music, strange sense of humor, disgust for bourgeois Vienna, and great fear in the face of death. Part memoir, part fiction, Wittgenstein's Nephew is both a meditation on the artist's struggle to maintain a solid foothold in a world gone incomprehensibly askew, and a stunning—if not haunting—eulogy to a real-life friendship.
Praise For Wittgenstein's Nephew: A Novel (Vintage International)…
"Furious, obsessive, scathing, absolutely hilarious and oddly beautiful."
—Claire Messud, author of The Emperor's Children, on Salon

"Bernhard's fiction is full of energy; his restless imagination cannot leave a fact or idea alone. . . . Only someone with such a brilliant, tricky, inexhaustible mind could get away with Wittgenstein's Nephew."
—The New York Times

"In its obsessive, elegant rhythms and narrative eloquence, [Wittgenstein's Nephew] resembles a tragic aria by Richard Strauss. . . . A memento mori that approaches genius."
—Wall Street Journal

"Oddly moving and funny. . . . A meditative fugue for mad, brilliant voices on the themes of death, death-in-life and the artist's and thinker's role in society."
—Chicago Tribune

"Bernhard is a writer of great originality and fascination."
—The New York Review of Books

"In the annals of literature, Thomas Bernhard will stand as Austria's postwar genius."
—The Washington Times

"Thomas Bernhard is one of the masters of contemporary European fiction. . . . After Kafka and Canetti's, his sensibility is one of the most acute, the most capable of exemplary images and gestures, in modern literature."
—George Steiner

"It is high time that we keep Bernhard firmly in our mind, as European readers have been doing for many years now."
—Christian Science Monitor
Vintage, 9781400077564, 112pp.
Publication Date: October 13, 2009
About the Author
Thomas Bernhard was born in Holland in 1931 and grew up in Austria. He studied music at the Akademie Mozarteum in Salzburg. In 1957 he began a second career, as a playwright, poet, and novelist. The winner of the three most distinguished and coveted literary prizes awarded in Germany, he has become one of the most widely translated and admired writers of his generation. He published nine novels, an autobiography, one volume of poetry, four collections of short stories, and six volumes of plays. Thomas Bernhard died in Austria in 1989.