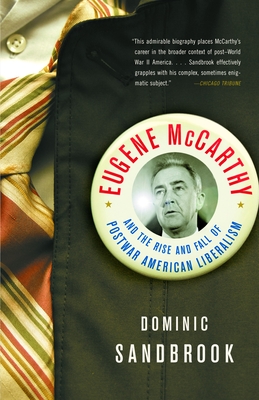 Eugene McCarthy (Paperback)
The Rise and Fall of Postwar American Liberalism
Anchor, 9781400077908, 432pp.
Publication Date: April 12, 2005
* Individual store prices may vary.
Description
Originally a New Deal liberal and aggressive anticommunist, Senator Eugene McCarthy famously lost faith with the Democratic party over Vietnam. His stunning challenge to Lyndon Johnson in the 1968 New Hampshire primary inspired young liberals and was one of the greatest electoral upsets in American history. But the 1968 election ultimately brought Richard Nixon and the Republican Party to power, irrevocably shifting the country's political landscape to the right for decades to come.

Dominic Sandbrook traces one of the most remarkable and significant lives in postwar politics, a career marked by both courage and arrogance. Sandbrook draws on extensive new research – including interviews with McCarthy himself – to show convincingly how Eugene McCarthy's political experience embodies the larger decline of American liberalism after World War II. These were tumultuous times in American politics, and Sandbrook vividly captures the drama and historical significance through his intimate portrait of a singularly interesting man at the heart of it all.
About the Author
Born in Shropshire in 1974, Dominic Sandbrook studied history and modern languages at Oxford University. He has a master's degree from the University of St. Andrews and a doctorate from Cambridge University. He taught American history at the University of Sheffield from 2001 to 2004, and has held a Senior Fellowship at the Rothermere American Institute, Oxford.  He is the author of Never Had It So Good: A History of Britain from Suez to the Beatles, and lives in London.
Praise For Eugene McCarthy: The Rise and Fall of Postwar American Liberalism…
"An interesting book, handsomely written, and closely researched." –The Weekly Standard

"Massively researched. . . . Sandbrook is effective in conveying the sense of a wasted talent." –The Nation

"Dominic Sandbrook's subtle, intelligent portrait gives us Gene McCarthy in all his enigmatic brilliance. . . . At a time when so much political history comes to us as scandal and gossip, this absorbing book reminds us where the drama of politics really begins–in the tensions between idealism and compromise, intellect and passion, knowledge and delusion." –Sam Tanenhaus, author of Whittaker Chambers

"McCarthy has lacked a full-scale biography; now, thanks to a young British historian, Dominic Sandbrook, he has a very good one. . . . Sandbrook brings both McCarthy and American liberalism alive. . . . A stunning achievement."
–History Book Club Review (Editors' choice)

"Highly readable. . . . Captures all of the drama and historical significance of both McCarthy the man and the political era that he helped define." –Tucson Citizen

"A consummate political biography. Dominic Sandbrook insightfully probes Eugene McCarthy's complex role in the decay of American liberalism. Avoiding nostalgia, he writes with an incisive and compelling honesty. . . . A sobering story in vivid prose, rich in nuance." –Alan Taylor, Pulitzer Prize–winning author of William Cooper's Town

"Sandbrook's biography will command attention and spark discussion about this controversial career and McCarthy's role in the end of the New Deal liberal consensus."
–Publishers Weekly

"Illuminating. . . . Sandbrook is especially good at describing how McCarthy's Catholicism formed his political visionÉ. Scholarly, scrupulously researched." –Library Journal

"This incisive account of the career both of postwar liberalism and of one of its most romantic standard-bearers reads like the anatomy of a lost cause —lost thanks not only to ideological choices but to the all-too-human attributes of arrogance, self-absorption and spite. An invaluable book for liberals who want to understand how they got where they are." –James Traub, contributing writer for The New York Times Magazine
or
Not Currently Available for Direct Purchase