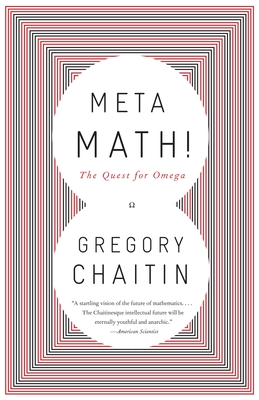 Meta Math!: The Quest for Omega (Paperback)
The Quest for Omega
Vintage, 9781400077977, 220pp.
Publication Date: November 14, 2006
Description
Gregory Chaitin, one of the world's foremost mathematicians, leads us on a spellbinding journey, illuminating the process by which he arrived at his groundbreaking theory. Chaitin's revolutionary discovery, the Omega number, is an exquisitely complex representation of unknowability in mathematics. His investigations shed light on what we can ultimately know about the universe and the very nature of life. In an infectious and enthusiastic narrative, Chaitin delineates the specific intellectual and intuitive steps he took toward the discovery. He takes us to the very frontiers of scientific thinking, and helps us to appreciate the art--and the sheer beauty--in the science of math.
About the Author
Gregory Chaitin works at the IBM Thomas J. Watson Research Center in Westchester County, New York, and is a visiting professor in the Computer Science Department of the University of Auckland, New Zealand. The author of eight previous books on mathematics, he lives in New York.
Praise For Meta Math!: The Quest for Omega…
"A startling vision of the future of mathematics. . . . The Chaitinesque intellectual future will be eternally youthful and anarchic."–American Scientist

"Math's dark secret is out. . . . Chaitin explains why omega, a number he discovered thirty years ago, has him convinced that math is based on randomness."
–Time Magazine

"Captivating. . . . With extraordinary skill and a gentle humor, Chaitin shares his profound insights."
–Paul Davies, author of How to Build a Time Machine

"A clearly written and witty look at a difficult subject. . . . Chaitin explains with infectious enthusiasm how mathematics doesn't equal certainty." –Science News
Advertisement