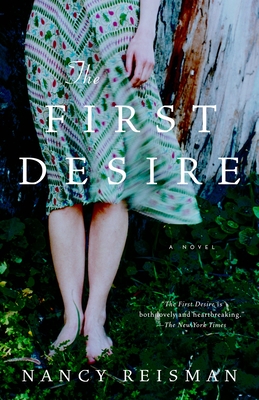 The First Desire (Paperback)
Anchor, 9781400077991, 320pp.
Publication Date: August 30, 2005
Other Editions of This Title:
Digital Audiobook (9/13/2004)
* Individual store prices may vary.
Description
When Sadie looks out her window and sees her bother standing on the front lawn she knows he can't bring good news. Fidgeting over coffee with sugar and cream he explains: Their sister is gone. Three days earlier Goldie left to go shopping and she has not returned. With Goldie's disappearance as the catalyst, The First Desire takes us deep into the life of the Cohen family and Buffalo, New York, from the Great Depression to the years immediately following World War II. Shifting perspectives from siblings Sadie, Jo, Goldie, and Irving we learn of the secrets they have managed to keep hidden--and of Lillian, the beautiful woman their father took as a lover while his wife was dying. In this astonishing novel Reisman brings to life the love, grief, and desires that ultimately bind one family together.
About the Author
Nancy Reisman is the author of House Fires, a short story collection that won the 1999 Iowa Short Fiction Award. Her work has appeared in, among other anthologies and journals, Best American Short Stories 2001, Tin House, and The Kenyon Review. She has received fellowships from the National Endowment for the Arts and the Fine Arts Work Center in Provincetown. She lives in Ann Arbor, where she currently teaches creative writing at the University of Michigan.
Praise For The First Desire…
"The First Desire is both lovely and heartbreaking." –The New York Times"A debut of luminous, distinctive quality. . . . This is a writer quietly taking her own bold course, and to travel with her as she does is a joy." –The Boston Globe
"Haunting. . . . Reisman's genius [is having] produced a book that generates its own world and holds the reader captive, willingly, to its landscape. Reisman creates this miracle through the power of her writing." –San Francisco Chronicle"Only fiction can feel as real as this—and only in the right hands. . . . You needn't be from Buffalo to be swept away by The First Desire. You need only be from a family." –USA Today"A book of rhythms and reveries . . . rich in atmosphere. . . . The First Desire is a mystery story, left unsolved because the mystery is identity itself." –The New York Times Book Review"A continuing testament to the paradoxical ease with which family ties unravel. . . . Intensely affecting and thought-provoking." –Washington Post Book World
"Nancy Reisman has written a book in which the sentences are so lush, the characters are so vivid, and the story is so compelling, I felt I had stepped inside the world she created and had taken up residence. I want to tell you how much I loved it there. The First Desire is not a book to be merely read. It is a book to be lived." –Ann Patchett, author of Bel Canto

"A triumph. . . . [Reisman] proves herself Virginia Woolf's equal in sketching how interior vistas can collide with exterior limits in women's lives. The First Desire is a marvelous testament to how family can both sustain and destroy us, a delicate dance through the family minefields, written in language both limpid and wise. . . . We will not have room to say enough [about] the wonder of Reisman's prose." –Detroit Free Press
"Intense and moving. . . . Aside from the grace of the writing, The First Desire astonishes most in the intimacy it grants us with five fully realized characters." –Atlanta Journal Constitution

"Accomplished. . . . Reisman's sumptuous prose, and her canny knowledge of the corrosive ways an average family can come apart, make The First Desire a lovely, absorbing companion." –Entertainment Weekly (editor's choice)
"Reisman writes beautifully, a prose of restraint and grace. The achievement of this novel is that you are completely inside it from the moment you begin. . . . This is a story that has the shape of life as it is truly lived." – Anna Quindlen, Book-of-the-Month Club News
"This is a stealth novel. The characters creep up on you, and before you know it you are inhabiting their world, attuned to intimate details, desires and desperate measures invisible to outside eyes. A lovely read." –Ann-Marie MacDonald, author of Fall on Your Knees and The Way the Crow Flies
"A superb new writer. . . . Reisman, whose sensually charged, often outright stunning style strongly evokes Virginia Woolf . . . proves herself a rare master of internal drama, able to isolate the moment that effects a sea change within a lifetime of compromise."
–Vogue

"Reisman's hypnotic prose makes her . . . characters live. And her sympathy and wealth of detail make the Cohens' world our own: specific, inescapably flawed, unpredictably meaningful and very, very real." –People

"There is not a false move in Nancy Reisman's The First Desire, one of the best tales I have ever read both about belonging to a family and about what the book calls 'the second desire,' the wish to be invisible, to disappear from that family, and to vanish into the American landscape." –Charles Baxter, author of The Feast of Love