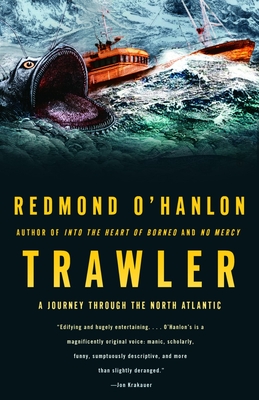 Trawler (Paperback)
Vintage Books USA, 9781400078103, 339pp.
Publication Date: January 3, 2006
Description
Having survived Borneo, Amazonia, and the Congo, the indefatigable Redmond O Hanlon sets off on his next adventure: his own perfect storm, in the wild waters off the northern tip of Scotland. Equipped with a fancy Nikon, an excessive supply of socks, and no seamanship whatsoever, O Hanlon joins the commercial fishing crew of the Norlantean, a deep-sea trawler, to stock a bottomless hull with their catch, even as a hurricane roars around them. Rich in oceanography, marine biology, and uproarious humor, Trawler is Redmond O Hanlon at his finest.
About the Author
A fellow of the Royal Geographical Society and the Royal Society of Literature, Redmond O Hanlon was the natural history editor of The Times Literary Supplement for fifteen years. He lives near Oxford, England, with his wife and their two children. Among contemporary travel writers, according to The Washington Post, he has the best nose for the globe s precious few remaining blank spots . . . Long may he trudge and paddle. The following books by O Hanlon are available in Vintage paperback: Into the Heart of Borneo A learned and sensitive book as well as a knockabout farce. The New York Review of Books In Trouble Again: A Journey Between the Orinoco and the Amazon When Evelyn Waugh . . . and Graham Greene traveled, the going was still rough . . . Redmond O Hanlon, hacking his way up an unmapped tributary of the Amazon, fearful (and not without good reason) of ending his days in someone s cooking pot, has managed to keep that tradition alive. Jonathan Raban No Mercy: A Journey into the Heart of the Congo Old-fashioned, gut-wrenching, real-life adventure . . . As much an inner journey that explores fear, religion, magic and childhood as it is a dangerous trek into the depths of the jungle. Time From the Hardcover edition."
Praise For Trawler…
"Edifying and hugely entertaining. . . . O'Hanlon's is a magnificently original voice: manic, scholarly, funny, sumptuously descriptive, and more than slightly deranged." –Jon Krakauer

"One of the most thrilling and inspiring books about science I've ever read . . . hours of pleasure offered by an enchanting dinner guest [who] often reveals himself to be foolishly bold, comically inept, intellectually astute and a madcap driver: Mr. Toad with a Ph.D."
–Bruce Barcott, The New York Times Book Review

"Trawler read[s] like The Perfect Storm meets Monty Python."–Outside

"O'Hanlon is an adventurer worthy of the word–a credentialed naturalist, a rompish wanderer, a sparkling armchair companion, a bit of a goof and also a smashingly evocative writer. . . . In that wild and exhilarating junction where human and nature meet, he pursues the joys of discovery."–Los Angeles Times Book Review
Advertisement