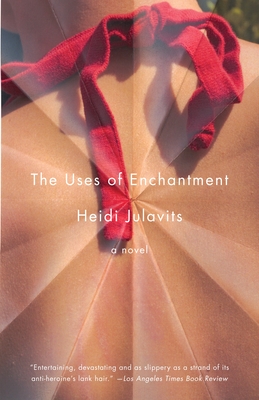 The Uses of Enchantment (Paperback)
Anchor Books, 9781400078110, 356pp.
Publication Date: January 8, 2008
Description
One Autumn day in 1985, sixteen-year-old Mary Veal vanishes from her Massachusetts prep school. A few weeks later she reappears unharmed and with little memory of what happened to her--or at least little that she is willing to share. Was Mary abducted, or did she fake her disappearance?This question haunts Mary's family, her psychologist, even Mary herself.Weaving together three narratives, The Uses of Enchantment conjures a spell in which the hallucinatory power of a young woman's sexuality, and her desire to wield it, has devastating consequences for all involved.
About the Author
Heidi Julavits is the author of two previous novels, The Mineral Palace and The Effect of Living Backwards, as well as a collaborative book, Hotel Andromeda, with the artist Jenny Gage. She is a founding editor of The Believer, and her writings have appeared in Esquire, Time, The New York Times, McSweeney's among other places. She lives in Manhattan and Maine.
Praise For The Uses of Enchantment…
"A novel of ideas that moves with the speed and inevitability of a freight train. . . . Entertaining, devastating and as slippery as a strand of its anti-heroine's lank hair."
—Los Angeles Times Book Review

"The quest to excavate the intact truth from layers of mythology, ideology, and memory is what yokes the reader to every word of Heidi Julavits's new novel. . . . A riveting, at times deeply funny, disturbing book." —The Boston Globe

"Beautifully wrought. . . . Assertively smart, trickily constructed." —The New York Times

"An ingenious, seriocomic study of the female imagination's power to alter and contort the lives it touches." —The Miami Herald
Advertisement