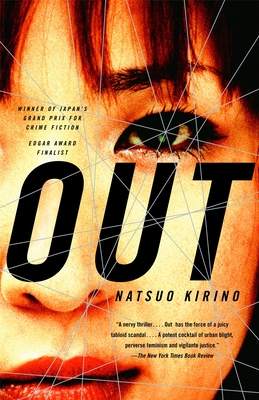 Out
A Thriller (Vintage International)
Paperback

* Individual store prices may vary.
Other Editions of This Title:
Compact Disc (6/6/2019)
Paperback, French (6/3/2007)
MP3 CD (9/20/2016)
Description
Winner of Japan's Grand Prix for Crime Fiction • Edgar Award Finalist • Nothing in Japanese literature prepares us for the stark, tension-filled, plot-driven realism of Natsuo Kirino's award-winning literary mystery Out.

This mesmerizing novel tells the story of a brutal murder in the staid Tokyo suburbs, as a young mother who works the night shift making boxed lunches strangles her abusive husband and then seeks the help of her coworkers to dispose of the body and cover up her crime. The coolly intelligent Masako emerges as the plot's ringleader, but quickly discovers that this killing is merely the beginning, as it leads to a terrifying foray into the violent underbelly of Japanese society.

At once a masterpiece of literary suspense and pitch-black comedy of gender warfare, Out is also a moving evocation of the pressures and prejudices that drive women to extreme deeds, and the friendships that bolster them in the aftermath.
Praise For Out: A Thriller (Vintage International)…
A nervy thriller. . . . Out has the force of a juicy tabloid scandal. . . . A potent cocktail of urban blight, perverse feminism and vigilante justice." –The New York Times Book Review

"Scarily omniscient. . . . Like Walter Mosley, [Kirino] exploits the beat-down potential of the hard-boiled novel to depict life on society's bottom in ways that subtly read as one part social protest, one part sadomasochistic entertainment." –The Village Voice

"A gutsy, unflinching foray into the darkest, most dangerous recesses of the human soul. . . . Riveting, hair-raising . . . definitely not for the faint-of-heart." –Minneapolis Star-Tribune

"Mingling biting feminist commentary with engrossing storytelling . . . a scathing allegory about the subjugation of women in Japanese society and the secret lives this forces them to lead." –The New York Times

"Masterful and psychologically astute." –San Francisco Chronicle

"A brutally realistic picture of contemporary society. . . . Spare, unsentimental." –Newsweek

"So dark, so gruesome . . . it left this reader reeling. No gritty urban American tale of violence can match the horror of Out." –Carol Memmott, USA Today

"Daring and disturbing, Out is prepared to push the limits of this world–not only in violence and sex but also in human outlook. . . . Remarkable." –Los Angeles Times

"Truly a universal tale. . . . Kirino knows not only everybody's business but everybody's mind–her way with interior monologue is pungent and prismatic." –The Village Voice

"Brings the mystery thriller to new levels of intensity and realism. . . . Out has great plot twists, vigor, and an ending that would make Hannibal Lecter smile." –Library Journal (starred review)

"Sensational." –Time Out, NY

"Finally, a masterpiece in this genre . . . . a novel that realistically shows how ordinary people can be drawn into committing brutal crimes." — Prize Jury, Mystery Writers of Japan

"Forget about flower arranging and geisha girls. . . . Out offers an intriguing look at the darker sides of Japanese society while smashing stereotypes about Japanese women." –Washington Post Book World

"A knuckle-clenching thriller." –Entertainment Weekly

"Grimly satisfying . . . like no one you've ever read before." –Kirkus Reviews

"Out descends beneath the genre's foundation to provide a remarkable series of insights into the forces that drive the charnel house of a postindustrial culture." –American Book Review

"Dark, seductive and occasionally brutal, Out explores the lower classes of Japanese society with a distinctive gallows humor." –Book

"A gutsy, unflinching foray into the darkest, most dangerous recesses of the human soul. And the book's riveting, hair-raising final scenes, although definitely not for the faint-at-heart, serve as an unsettling reminder that the desperate desire for freedom has the potential to set any ordinary individual among us off down a very dark and lonely road." –Minneapolis Star-Tribune

"Out turns the whole subservient geisha image on its head." –Jane

"Absurdly compellingÉa superb and riveting thriller." –Book Trust (UK)

"An exciting, disturbing read. . . . Kirino's Tokyo is an unexpected place, far from the glamorous stereotype." –Telegraph (UK)

"A feminist revenge plot meets social critique and hardcore horror in a startling Japanese mix of satire and sensation."–The Independent (UK)

"A page-turning thriller that at the same time delivers one of the most powerful wallops for feminist literature in recent memory."–Telegraph Magazine (UK)
Vintage, 9781400078370, 416pp.
Publication Date: January 4, 2005
About the Author
Natsuo Kirino, born in 1951, quickly established a reputation in her own country as one of a rare breed of mystery writer whose work goes well beyond the conventional crime novel. This fact has been demonstrated by her winning not only the Grand Prix for Crime Fiction in Japan–for Out in 1998–but one of its major literary awards–the Naoki Prize in 1999, for Soft Cheeks (to be published in English). Several of her books have also been turned into full-scale movies.

Out is the first of her novels to appear in English and was nominated for an Edgar Award. Natsuo Kirino lives in Japan.