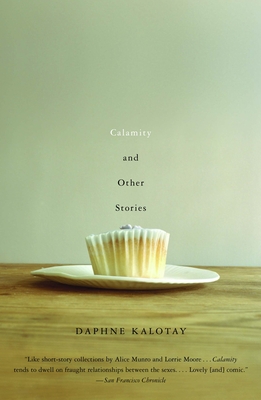 Calamity and Other Stories (Paperback)
Anchor, 9781400078486, 208pp.
Publication Date: May 9, 2006
* Individual store prices may vary.
Description
Twelve luminous stories alive with friendship and secrets introduce a remarkable writer. Daphne Kalotay's characters confront regrets and unrealized hopes in tales tinged with gentle humor. A newly independent woman finds herself in bed with an ex-husband of long ago. A little girl gets a surprising glimpse into adulthood when she catches her mother in a moment of uninhibited pleasure. A thirteen-year-old boy contends with the unwanted attentions of a younger girl. And for two older women, a tie formed in their youth sustains them through varied twists of fate. These are dazzling intertwined tales of love, failure, and the comedy of human relationships.
About the Author
Born and raised in New Jersey, Daphne Kalotay is a graduate of Vassar College and of Boston University, where she received an MA in creative writing and a Ph.D. in literature. Her short stories have appeared in various literary journals and magazines, and she has taught literature and writing at Middlebury College and Boston University. She lives in Brookline, Massachusetts.
Praise For Calamity and Other Stories…
"Like short-story collections by Alice Munro and Lorrie Moore . . . Calamity tends to dwell on fraught relationships between the sexes. . . . Lovely [and] comic." —San Francisco Chronicle"Superior fiction. Forget the flashy epiphany, the Kodak moment. Kalotay prefers the glancing accumulation of detail, which pays off to impressive effect." —Los Angeles Times"Kalotay's collection builds force so quietly that when all the characters appear together in the final story you're stunned—by how well it works and by how familiar these women now feel." —The New York Times Book Review"Contemplative, melancholy, yet not without humor, these are well-made fictions on a delicate scale that subtly demonstrate such truths as the persistence of character and the endurance of friendship." —The Boston Globe"These stories, simply told and insightful, make for entertaining reading." —The Sunday Oklahoman"Daphne Kalotay pursues the ongoing arc of her characters' lives in subtle, languid, sometimes oblique ways."  —The Improper Bostonian"Kalotay's stories offer an intimate glimpse at . . . the absurdities and delights of an ordinary life." —The Virginian-Pilot"[A] delicately graceful debut. . . . Capturing her characters at different stages in their lives, Kalotay artfully crafts her book around their metamorphoses, both big and small." —Publishers Weekly"Compassion is at the heart of Kalotay's polished stories, as are a subtle sense of humor and appreciation for the complexities of human emotion." —Booklist
or
Not Currently Available for Direct Purchase