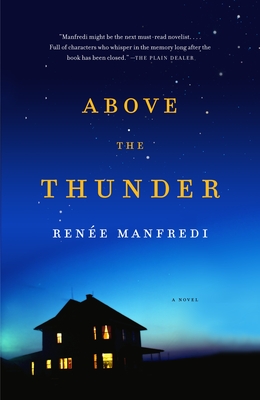 Above the Thunder (Paperback)
Anchor, 9781400078509, 352pp.
Publication Date: May 10, 2005
Other Editions of This Title:
Hardcover (1/1/2004)
* Individual store prices may vary.
Description
A wary, middle-aged widow numbed by loss and disappointment. A preternaturally intelligent little girl who eavesdrops on the dead. A charming, sybaritic gay man torn between his love for his partner and the anarchy of his desires.These are the charged poles of Ren?e Manfredi's gorgeously written first novel, a book that explores the currents of tenderness, responsibility and chance that turn strangers into a family.

Anna Brinkman meets her ten-year-old granddaughter Flynn when the girl appears on her doorstep, desperate for a love more steadfast than any she has received from her parents. She meets Jack when he shows up in an AIDS support group she is running and does his best to get kicked out. What ensues in a house on the coast of Maine will be the great journey of all their lives. Filled with humor, sadness, and wisdom, Above the Thunder is a magical achievement.
About the Author
Ren?e Manfredi received her MFA from Indiana University, a fellowship from The National Endowment for the Arts, and was a regional winner of Granta's Best American Novelists Under 40. Her story collection, Where Love Leaves Us, won the Iowa Short Fiction award. Her short stories have been published in The Mississippi Review, The Iowa Review, The Georgia Review, and the Pushcart Prize anthology, and were featured in NPR's "Selected Shorts" series. Manfredi is currently an Associate Professor at the University of Alaska. Above the Thunder is her first novel.
Praise For Above the Thunder…
"Manfredi might be the next must-read novelist. . . . Full of characters who whisper in the memory long after the book has been closed." —The Plain Dealer

"Renee Manfredi has crafted a world that is as at once beautiful and authentic, recognizable and richly imagined. Every character who graces the pages of this stunning first novel left me nodding my head in recognition. Pure and simple, Above the Thunder is a terrific book." --Chris Bohjalian, author of Midwives and Before You Know Kindness

"Renee Manfredi [writes] with the calm assurance of someone who believes she has a subject and a story to tell." — Francine Prose, author of Blue Angel

"Renee Manfredi has created a gripping fable about a self-made family of complex, vivid, and haunting characters. They make their way through loss and grief by the use of strange and everyday varieties of magic: goggles that shut out the world, white blood cells on glass slides, almond cherry galette, sex, and even, at times, the help of the dead. --Sarah Stone, author of The True Sources of The Nile

"This beautiful, original novel's characters have the heft and complexity of real people in all their maddening contradictions, rough edges, and hidden secret selves. Manfredi goes boldly, with effortless grace and confidence, into places where thinner-blooded novelists might fear to tread." --Kate Christensen, author of In the Drink and The Epicure's Lament

"Above The Thunder is passionate, wise, and piercingly beautiful. Readers drawn to books with rich, memorable characters and contemporary stories will find this remarkable debut novel not only irresistible but impossible to put down." --Tony Ardizzone, author of In the Garden of Papa Santuzzu

"Tragic, dramatic, romantic, inspiring, and devastating . . . Manfredi demonstrates the skill and talent of a novelist with many books under her belt" --Smallspiralnotebook.com

"Manfredi might be the next must-read literary novelist . . .full of characters who whisper in the memory long after the book has been closed." –Chicago Tribune

"Ren?e Manfredi [writes] . . . with the calm assurance of someone who knows she has a subject and a story to tell." –Francine Prose, author of Blue Angel

"A stunning debut novel . . . To describe [it] as a brilliant, issue-oriented drama shortchanges Manfredi's accomplishments; the medical writing recalls the early works of Ethan Canin, and the combination of smooth storytelling, compassionate and probing narration and imaginative plotting makes for a heady blend. . . . Amazingly accomplished." –Publishers Weekly (starred)

"Ren?e Manfredi's voice is sassy, compassionate, electric." –Tony Ardizzone, author of In the Garden of Papa Santuzzu

"In this moving, engrossing family drama about journeys taken willingly and, for the most part, not, relatives' and acquaintances' lives intersect, and tests of family loyalties and friendships spur growth and insight. Meanwhile, Manfredi handles each character confidently and credibly." –Booklist

"Read any paragraph of Ren?e Manfredi and you will hear a voice of rare authority and verve. What is even more rare, and worth celebrating, is her compassion for her characters, her willingness to reach out into lives quite different from her own, her honesty in dealing with loss, loneliness, and grief." –Scott Russell Sanders, author of Hunting for Hope and Secrets of the Universe

"Tragic, dramatic, romantic, inspiring, and devastating . . . . Manfredi demonstrates the skill and talent of a novelist with many books under her belt." –smallspiralnotebook.com

"Manfredi's disciplined command of language combined with her intricate plot and compassion toward her characters make [Above the Thunder] an absorbing read." –Rocky Mountain News

"Thoughtful and complex. . . .The reader is transported through the truly significant emotions that govern our days: joy, grief, compassion and love." –curledup.com
or
Not Currently Available for Direct Purchase