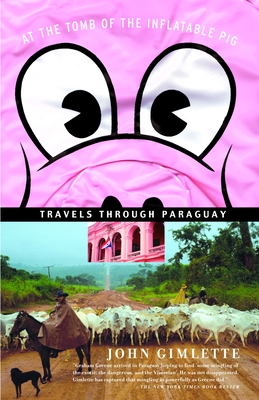 At the Tomb of the Inflatable Pig: Travels Through Paraguay (Paperback)
Travels Through Paraguay
Vintage, 9781400078523, 400pp.
Publication Date: January 1, 2005
Description
Haven to Nazis, smugglers' paradise, home to some of the earth's oddest wildlife and most baroquely awful dictatorships, Paraguay is a nation waiting for the right chronicler. In John Gimlette, at last it has one. With an adventurer's sang-froid, a historian's erudition, and a sense of irony so keen you could cut a finger on it, Gimlette celebrates the beauty, horror and-yes-charm of South America's obscure and remote "island surrounded by land." He takes readers from genteel drawing rooms in Asuncion-where ladies still gossip about the nineteenth-century Irish adventuress who became Paraguay's Empress to the "Green Hell" of the Chaco, a vast, inhospitable tract populated by aging Mennonites and discouraged Indians. Replete with eccentrics and scoundrels, ecologically minded cannibals and utopians from every corner of the earth, At the Tomb of the Inflatable Pig is a madly entertaining book.
About the Author
John Gimlette is a regular contributor of travel articles and photographs to Conde Nast Traveller, as well as numerous journals and newspapers in England. He is a practicing attorney in London, where he lives with his family. This is his first book.
Praise For At the Tomb of the Inflatable Pig: Travels Through Paraguay…
"Colorful and meandering, by turns hilarious and horrifying, often delightful. . .and very, very odd. . . . An entirely faithful reflection of its subject." --The New York Times Book Review

"[Gimlette's] account is so rich in anecdotes, so suffused in color and dialect that we are left with a sense of having somehow inhaled all this Paraguayan history and then experienced it through a nightmare or a dream. Gimlette has given us a cast of characters as vivid as any by Dickens or Waugh."-- The New York Times

"Gimlette knows his subject cold, and it's a subject bound to have something for everyone . . . Charming and vivid. . . crammed full of a wild cast of characters and incredible experiences." --San Francisco Chronicle

"A hilarious, informed anti-travelogue . . . with generous detail grounded in the author's personal experiences, this is a travel book of the mind."--The Boston Globe

"Blends travelogue, history and flights of descriptive whimsy to highly tonic effect. . . . For all his mastery of Paraguayan history, it's Gimlette's extravagant prose and unhinged enthusiasm that make the book. . . . You couldn't ask for a more entertaining guide." --The Seattle Times

"Hilarious. . . . What keeps you reading about Paraguay, maybe in spite of yourself, is Gimlette's marvelous wit and eye for character." --Pittsburgh Post-Gazette

"Reading the book is like watching a Komodo dragon eat a tethered goat. Paraguay, as Gimlette portrays it, is . . . completely bizarre. . . . Conquistadores and Nazis, whores and cannibals, all of them rather awful, all of them splendidly rendered. . . . Graham Greene would have approved." --National Geographic Adventure

"A glorious travel book . . . in which the country's craziness is portrayed with humor, insight and considerable deftness of touch. . . . As a historian of the absurd [Gimlette] is superlative." --The Sunday Times (London)

"A wildly entertaining read: a raucous blend of history, travelogue, and guide." --Conde Nast Traveler

"At The Tomb of the Inflatable Pig should be ranked among the very best explorations of its kind: at once a history and a guide to one of the least hospitable nations on earth." --The Washington Times

"Irreverent and rambunctious. . . . [A] superior travel book." --Foreign Affairs

"An extraordinary book, part history, part travelogue . . . so vivid that nobody reading it is ever likely to forget the country. . . . A book that sheds fascinating light on a forgotten corner of Latin America'" --The Daily Telegraph (London)

"A richly detailed catalog of oddities and horrors, the kind of eccentricities that flourish in isolation. . . . [Gimlette] spills Paraguay's cruelest, most shameful secrets, but his admiration for the forlorn middle country is real on every page." --Outside

"Howlingly entertaining. . . . There [is] no resisting Gimlette's rollicking account." --San Diego Union-Tribune

"A truly wonderful exploration of one of the world's most captivating countries ... Brilliant." --Sunday Express

"[A] wonderful, wacky book. . . . Filled with the offbeat and the bizarre. Gimlette's narrative attempts to flesh out a country that is as difficult to define as nailing Jell-O to a wall. Vivid, riotous, fascinating and never dull, his book is wildly entertaining." --The Tucson Citizen

"Compelling. . . . Blackly comical. . . . Spicy, exuberant prose." --Mail on Sunday (London)

"Eccentric and richly descriptive. . . . The best travel writers are those with both a sense of history and a sense of humor, and Gimlette qualifies on both counts." --Richmond Times-Dispatch

"[Gimlette] has a firm grasp of the country's intriguing past, and a watchful eye on its perplexing present." --Literary Review

"Terrifically funny. . . . A great book in the noble tradition of British travel writing." —Hartford Advocate

"Perceptive and entertaining." --The Times Literary Supplement (London)
Advertisement