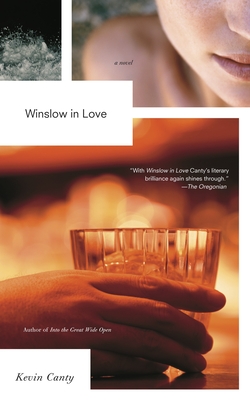 Winslow in Love (Vintage Contemporaries)
Paperback

* Individual store prices may vary.
Description
Richard Winslow is in a rut. His marriage is over and he is alone, teaching poetry as a visiting professor in Montana and continuing to avoid actually writing himself. He drinks to oblivion every night.

At this freezing college, in the dead of winter, Winslow meets Erika, one of his poetry students. What begins with office hours and Jim Beam in paper cups becomes a road trip as they travel through Utah and Arizona. Long haunted by thoughts of death, both Erika and Winslow begin to glimpse the power life can hold if they will only open up to the shame, beauty, and heartbreak of it all.
Praise For Winslow in Love (Vintage Contemporaries)…
"With Winslow in Love Canty's literary brilliance again shines through." –The Oregonian

"A fantastically eloquent portrait of an interesting and troubled mind confronted with beauty, grasping at it for hope and forgetfulness while basking in the glorious present. . . . Winslow in Love is a marvelous book." –Chicago Tribune

"[A] bitter valentine to self-destruction. . . . Canty has whipped his prose into just the right tone, two parts gravel voice realism, one part looking for a chance at redemption." –The Denver Post

"Raw. Rare. Honest. Beautifully written. Winslow in Love is one of those novels that come along every now and then, making sense of the ruin and rush of our lives. The ongoing dream is to escape towards who we once were—and Winslow, a great broken-down drunken poet, manages to get there with a shattering grace. By avoiding all the clichés, by embracing sentiment without sentimentality, by taking the hard curve, Canty has written a significant American novel. Praise be."
—Colum McCann, author of Dancer



Vintage, 9781400078554, 272pp.
Publication Date: March 14, 2006
About the Author
Kevin Canty is the award-winning author of the novels Nine Below Zero and Into the Great Wide Open, as well as the short story collections Honeymoon and Other Stories and A Stranger in This World. His work has been published in The New Yorker, Esquire, GQ, the New York Times Magazine, and other periodicals. He lives in Missoula, Montana.
or
Not Currently Available for Direct Purchase