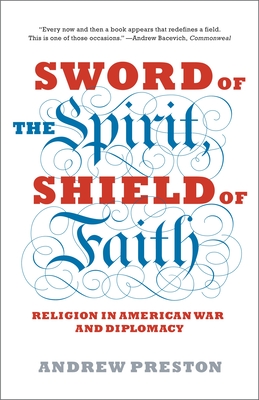 Sword of the Spirit, Shield of Faith
Religion in American War and Diplomacy
Paperback

* Individual store prices may vary.
Other Editions of This Title:
Hardcover (2/28/2012)
Description
Winner of the Charles Taylor Prize for Literary Non-Fiction
Finalist for the Cundhill Prize in History

A richly detailed, profoundly engrossing story of how religion has influenced American foreign relations, told through the stories of the men and women—from presidents to preachers—who have plotted the country's course in the world.
 
Ever since John Winthrop argued that the Puritans' new home would be "a city upon a hill," Americans' role in the world has been shaped by their belief that God has something special in mind for them. But this is a story that historians have mostly ignored. Now, in the first authoritative work on the subject, Andrew Preston explores the major strains of religious fervor—liberal and conservative, pacifist and militant, internationalist and isolationist—that framed American thinking on international issues from the earliest colonial wars to the twenty-first century. He arrives at some startling conclusions, among them: Abraham Lincoln's use of religion in the Civil War became the model for subsequent wars of humanitarian intervention; nineteenth-century Protestant missionaries made up the first NGO to advance a global human rights agenda; religious liberty was the centerpiece of Franklin Roosevelt's strategy to bring the United States into World War II.
 
From George Washington to George W. Bush, from the Puritans to the present, from the colonial wars to the Cold War, religion has been one of America's most powerful sources of ideas about the wider world. When, just days after 9/11, George W. Bush described America as "a prayerful nation, a nation that prays to an almighty God for protection and for peace," or when Barack Obama spoke of balancing the "just war and the imperatives of a just peace" in his Nobel Peace Prize acceptance speech, they were echoing four hundred years of religious rhetoric. Preston traces this echo back to its source.
 
Sword of the Spirit, Shield of Faith is an unprecedented achievement: no one has yet attempted such a bold synthesis of American history. It is also a remarkable work of balance and fair-mindedness about one of the most fraught subjects in America.
Praise For Sword of the Spirit, Shield of Faith: Religion in American War and Diplomacy…
"Neither pedantic nor superficial. [Preston] is the rare scholar who can educate a non-academic audience in the complexity of an important subject. Preston cuts through a confusion that often surrounds America foreign policy, by laying bare the unusual moral history behind it, a history that begins with the Puritans and proceeds in the grooves illuminated in this beautifully written book." —Michael Kimmage, The New Republic

"A unified field theory of American foreign relations capturing the play of personality and politics, passion and hypocrisy—all written with a style that further distinguishes [Preston] in a domain as deficient in literary grace as in candour. . . . Preston excels in portraits of the people at the heart of the matter, from the Puritans to Barack Obama. No governments here in faceless generality, no US in absolving abstract, but rather the frame and temper of human beings in all their force and frailty. History as biography, his work achieves the most elusive of biographical rendering—what did they really think about the nature of man and the universe, and how successfully, as Bierce would put it, did they adapt faith to the sins of policy. This is no simplistic case for religion as single cause. Preston's genius is to find the blending with all the other, frequently contradictory strains." —Roger Morris, The Globe and Mail

"[A] monumental study. . . . This book solidifies Preston's reputation as one of the foremost young scholars working in the great tradition of historical interpretation of war, diplomacy, and peace. . . Preston describes how America's religion has been far more intimately intertwined with its statecraft and foreign policy than is generally understood. . . . This is not the new master narrative of America, but it is close enough." —Charles Hill, The Wilson Quarterly
 
"Fascinating. . . . As a comprehensive survey, the book opens up pathways for others to explore." —Margaret Quamme, The Columbus Dispatch
 
"Encyclopedic. . . . [Preston] leaves no religious stone unturned . . . I hunger for more." —Richard I. Immerman, San Francisco Chronicle
 
"What is most astonishing is not this or that episode but rather the ubiquity of religious influence on America's international relations, an ubiquity that Preston complains has for far too long been hidden by the secularist bias of academic historians. A much-needed corrective to that bias." —Bryce Christensen, Booklist (starred review)
 
"Andrew Preston has written a remarkably comprehensive and uncommonly wise history about one of the most critical elements in the making of American foreign policy. It is a landmark work of scholarship about religion and politics — and a pleasure to read."  —Michael Kazin, author of American Dreamers
 
"Andrew Preston demonstrates that one of the keys to understanding American foreign policy lies at the interstices of religion and diplomacy.  This is a most impressive book, not only for scope of the author's research but also for his judicious conclusions."  —Randall Balmer, author of God in the White House
 
"[M]arvelously readable. . . . A sharp, clear, deeply researched examination of the consistent application of the founding religious principles to American foreign policy." —Kirkus Reviews (starred review)
 
"Reading this book is a thrilling intellectual adventure: it challenges received ideas at the same time as it throws light on buried, troubling perplexities and changes the way we view not only the United States but the rest of the world. Erudite, balanced and respectful, it could not be more timely and should be required reading for policy-makers, concerned citizens, atheists and religious alike." —Karen Armstrong, author A History of God
 
 "There have been a number of good books on particular aspects of religion and American foreign policy.  But no one before Andrew Preston has written such a thoroughly researched, consistently insightful, and ideologically balanced general history of this timely, important, but strangely under-studied subject.  This splendid book makes a major contribution in its own right, but also opens up an entire field for much-needed further study." —Mark Noll, author of America's God
 
"In this landmark work, Andrew Preston sheds light on a critical element of the American experience: the role of religion in our relationship to the world. Faith is one of the most influential factors in our national life, and Preston's excellent book gives religion its due as a force that shapes who we are, what wars we fight, and which causes we make our own." —Jon Meacham, author of American Lion

"This extraordinarily important book explores the relatively unknown link between religion and U.S. foreign policy. The author, a historian at Cambridge University, shows that religion has influenced the nation's foreign policies from the intermittent wars with the Barbary pirates in the 1790s to President Obama's Cairo speech in 2009. . . . Preston's work is exhaustive . . . in the opinion of this reviewer, [it] deserves a prize for historical scholarship and writing." —Al Menendez, Voice of Reason

"Every now and then a book appears that redefines a field. This is one of those occasions." —Andrew J. Bacevich, Commonweal
Anchor, 9781400078585, 832pp.
Publication Date: November 13, 2012
About the Author
Andrew Preston teaches American history and international relations history at Cambridge University, where he is a fellow of Clare College. Before Cambridge, he taught history and international studies at Yale University. He has also taught at universities in Canada and Switzerland, and has been a fellow at the Cold War Studies Program at the London School of Economics. He is the author of The War Council: McGeorge Bundy, the NSC, and Vietnam.
or
Not Currently Available for Direct Purchase