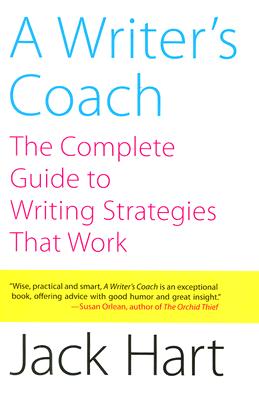 A Writer's Coach (Paperback)
The Complete Guide to Writing Strategies That Work
Anchor, 9781400078691, 304pp.
Publication Date: August 14, 2007
* Individual store prices may vary.
Description
Mystified over misplaced modifiers? In a trance from intransitive verbs? Paralyzed from using the passive voice? To aid writers, from beginners to professionals, legendary writing coach Jack Hart presents a comprehensive, practical, step-by-step approach to the writing process. He shares his techniques for composing and sustaining powerful writing and demonstrates how to overcome the most common obstacles such as procrastination, writer's block, and excessive polishing. With instructive examples and excerpts from outstanding writing to provide inspiration, A Writer's Coach is a boon to writers, editors, teachers, and students.
About the Author
Jack Hart is a managing editor of The Oregonian and has served as the newspaper's writing coach and staff development director. Formerly a professor of journalism at The University of Oregon, he has often lectured at Harvard's Niemann Conference for Narrative Journalism, and he teaches at writers' conferences throughout the country.
Praise For A Writer's Coach: The Complete Guide to Writing Strategies That Work…
"Wise, practical and smart, A Writer's Coach is an exceptional book, offering advice with good humor and great insight."—Susan Orlean, author of The Orchid Thief."A helpful and informative guide to 'words that work,' covering such essential writing topics, as clarity, rhythm, mechanics and voice."—The Seattle Post-Intelligencer"Offers such practical yet inspirational advice that both aspiring and longtime writers in any discipline would benefit from reading his book. . . . Best of all, Hart's writing is a model of the craft he so eloquently dissects."—Booklist"A hands-on guide remarkable for its completeness, its clarity, and its passion....towers above others of its kind."—William Blundell, author of The Art and Craft of Feature Writing