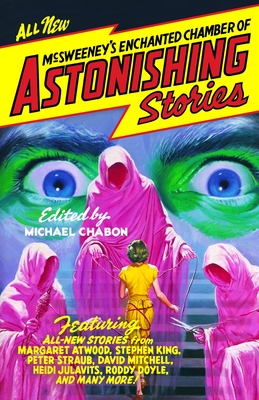 McSweeney's Enchanted Chamber of Astonishing Stories (Paperback)
Vintage, 9781400078745, 344pp.
Publication Date: November 16, 2004
Description
Michael Chabon is back with a brand-new collection that reinvigorates the stay-up-all-night, edge-of-the seat, fingernail-biting, page-turning tradition of literary short stories, featuring Margaret Atwood, Stephen King, Peter Straub, David Mitchell, Jonathan Lethem, Heidi Julavits, Roddy Doyle, and more Margaret Atwood- Lusus Naturae David Mitchell- What You Do Not Know You Want Jonathan Lethem- Vivian Relf Ayelet Waldman - Minnow Steve Erickson- Zeroville Stephen King- Lisey and the Madman Jason Roberts - 7C Heidi Julavits- The Miniaturist Roddy Doyle - The Child Daniel Handler - Delmonico Charles D'Ambrosio - The Scheme of Things Poppy Z. Brite - The Devil of Delery Street China Mieville- Reports of Certain Events in London Joyce Carol Oates - The Fabled Light-house at Vi-a del Mar Peter Straub - Mr. Aickman's Air Rifle.
About the Author
Michael Chabon is the bestselling and Pulitzer Prize-winning author of The Amazing Adventures of Kavalier & Clay, among many others. He lives in Berkeley, California with his wife, the novelist Ayelet Waldman, and their children.
Advertisement