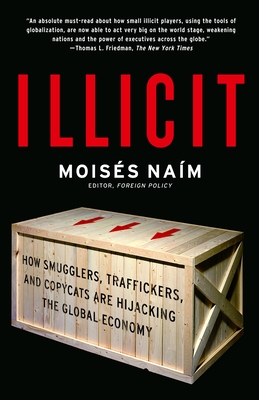 Illicit: How Smugglers, Traffickers, and Copycats Are Hijacking the Global Economy (Paperback)
How Smugglers, Traffickers, and Copycats Are Hijacking the Global Economy
Anchor Books, 9781400078844, 340pp.
Publication Date: October 10, 2006
Description
A groundbreaking investigation of how illicit commerce is changing the world by transforming economies, reshaping politics, and capturing governments.In this fascinating and comprehensive examination of the underside of globalization, Moises Naim illuminates the struggle between traffickers and the hamstrung bureaucracies trying to control them. From illegal migrants to drugs to weapons to laundered money to counterfeit goods, the black market produces enormous profits that are reinvested to create new businesses, enable terrorists, and even to take over governments. Naim reveals the inner workings of these amazingly efficient international organizations and shows why it is so hard and so necessary to contain them. Riveting and deeply informed, Illicit will change how you see the world around you.
About the Author
Moises Naim is the editor of the influential magazine Foreign Policy, published by the Carnegie Endowment for International Peace. Under his leadership, Foreign Policy has gained wide recognition for its cutting-edge articles, winning the 2003 National Magazine Award for General Excellence. Naim holds an M.S. and a Ph.D. from MIT and was the Minister of Industry and Trade in Venezuela, as well as an Executive Director of the World Bank. His columns are regularly carried by some of the world s leading publications, such as The Financial Times, Newsweek, El Pais, and Corriere della Sera."
Praise For Illicit: How Smugglers, Traffickers, and Copycats Are Hijacking the Global Economy…
"Naím succeeds in presenting a clear account of how illicit commerce works and what its consequences are...he sheds light on one of the most powerful forces shaping today's world." –Time

"Naím has gathered and sifted an astonishing range of information...Illicit is important reading for anyone struggling with the inadequacies of the "war on terror." –The Washington Post Book World

"Intellectually invigorating and accessible...it's not solely bullets that are changing the world."–USA Today

"Mr. Naím's ambitions are encyclopedic. If someone, somewhere is trying to get something over on their government, he wants to chronicle their evasions"–New York Sun
Advertisement