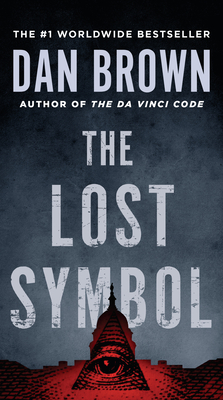 The Lost Symbol (Mass Market Paperbound)
Anchor Books, 9781400079148, 656pp.
Publication Date: October 19, 2010
Description
In this stunning follow-up to the global phenomenon The Da Vinci Code, Dan Brown demonstrates once again why he is the world's most popular thriller writer. The Lost Symbol is a masterstroke of storytelling that finds famed symbologist Robert Langdon in a deadly race through a real-world labyrinth of codes, secrets, and unseen truths . . . all under the watchful eye of Brown's most terrifying villain to date. Set within the hidden chambers, tunnels, and temples of Washington, D.C., The Lost Symbol is an intelligent, lightning-paced story with surprises at every turn. This is Dan Brown's most exciting novel yet.
About the Author
Dan Brown is the author of The Da Vinci Code, one of the most widely read novels of all time, as well as the international bestsellers Angels & Demons, Deception Point, and Digital Fortress. He lives in New England with his wife.
Praise For The Lost Symbol…
"Dan Brown brings sexy back to a genre that had been left for dead . . . His code and clue-filled book is dense with exotica . . . amazing imagery . . . and the nonstop momentum that makes The Lost Symbol impossible to put down.  Splendid. . . . Another mind-blowing Robert Langdon story." —New York Times

"Thrilling in the extreme, a definite page-flipper." —Daily News (New York)

"Call it Brownian motion: a comet-tail ride of beautifully spaced reveals and a socko unveiling of the killer's true identity." —Washington Post

"The wait is over.  The Lost Symbol is here—and you don't have to be a Freemason to enjoy it . . . .Thrilling and entertaining, like the experience on a roller coaster." —Los Angeles Times

"Robert Langdon remains a terrific hero, a bookish intellectual who's cool in a crisis and quick on his feet . . . .The codes are intriguing, the settings present often-seen locales in a fresh light, and Brown keeps the pages turning." —Entertainment Weekly
 
"A fascinating pleasure. . . . Upends our usual assumptions about the world we think we know." —Newsweek
 
"A roaring ride. . . . A caper filled with puzzles, grids, symbols, pyramids and a secret that can bestow 'unfathomable power.'" —San Francisco Chronicle
 
"Dan Brown is a master of the breathless, puzzle-driven thriller." —Richmond Times-Dispatch
Advertisement