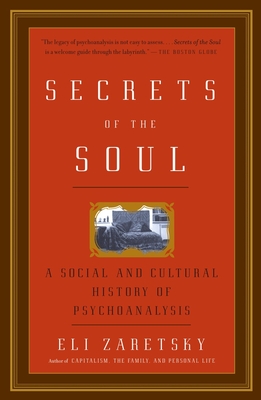 Secrets of the Soul: A Social and Cultural History of Psychoanalysis (Paperback)
A Social and Cultural History of Psychoanalysis
Vintage, 9781400079230, 448pp.
Publication Date: August 9, 2005
Description
The fledgling science of psychoanalysis permanently altered the nineteenth-century worldview with its remarkable new insights into human behavior and motivation. It quickly became a benchmark for modernity in the twentieth century--though its durability in the twenty-first may now be in doubt.
More than a hundred years after the publication of Freud's The Interpretation of Dreams, we re no longer in thrall, says cultural historian Eli Zaretsky, to the romance of psychotherapy and the authority of the analyst. Only now do we have enough perspective to assess the successes and shortcomings of psychoanalysis, from its late-Victorian Era beginnings to today's age of psychopharmacology. In Secrets of the Soul, Zaretsky charts the divergent schools in the psychoanalytic community and how they evolved sometimes under pressure from sexism to feminism, from homophobia to acceptance of diversity, from social control to personal emancipation. From Freud to Zoloft, Zaretsky tells the story of what may be the most intimate science of all.
About the Author
Eli Zaretsky was born in Brooklyn, New York. He received his B.A. from the University of Michigan and his Ph.D. from the University of Maryland. His book, Capitalism, the Family and Personal Life, has been translated into fourteen languages. His articles on the history of the family, psychoanalysis, and modern cultural history have appeared in numerous scholarly journals. He is currently Professor of History at the Graduate Faculty at the New School for Social Research, New School University in New York City.
Praise For Secrets of the Soul: A Social and Cultural History of Psychoanalysis…
"The legacy of psychoanalysis is not easy to assess. . . . Secrets of the Soul is a welcome guide through the labyrinth." --The Boston Globe

"In this expansive and authoritative work . . . Zaretsky charts the many shifts in Freud's thinking over the course of his long creative life." --The Washington Post Book World

"Zaretsky's narrative deftly braids together the conflicts, contradictions, injuries, and ironies that composed the extremely mixed foundation of what Janet Malcolm called 'the impossible profession.'" --Newsday
"An unremittingly ambitious book [that] reflects its author's Herculean immersion in an enormous amount of material." —The New York Times

"Ambitious...Zaretsky is at his best connecting the twists and turns of psychoanalytic theories to the social and economic changes that those theories reflected and helped shape." —Celia Brickman, The Chicago Tribune

"An important and pioneering book." –Elisabeth Young-Bruehl, author of Anna Freud: A Biography

"Indispensable…A superb account of the changing fortunes of psychoanalytic thought, institutions, and practices in the later 20th century." —Jenny Davidson, The Village Voice

"Capacious…Zaretsky makes a cogent case that the cultural freedoms of modernity own an enormous debt to Sigmund Freud." —Ellen Willis, Dissent

"An impressive and kaleidoscopic overview of the history of the major psychoanalytic ideas…None of the other histories I've read has put psychoanalysis in the context of its times the way Zaretsky has." –Robert S. Wallerstein, former president of the International Psychoanalytic Association

"Spellbinding and groundbreaking cultural history… written in a clear, easily accessible style…Zaretsky's knowledge is far-ranging and his grasp of psychoanalysis's complexities is solid and dexterous…Zaretsky's virtuoso achievement is to bring all these contradictions together in a powerfully argued overwhelming persuasive work."
–Publisher's Weekly (starred review)

"A cultural history not only of psychoanalysis but of the century itself."
–Dale Singer, St. Louis Sunday Post-Dispatch

"With the end of the 'Freudian Century,' psychoanalysis is now a cultural study rather than a medical treatment. Eli Zaretsky not only makes this claim but charts its complex history. The placing of psychoanalysis in its historical and social context and teasing out the relationship behind its enormous importance and its continuous marginality, is what we have been waiting for. An important book." –Juliet Mitchell

"Comprehensive and useful." —John Derbyshire, The New York Sun

"With sweeping perspective, integrative skill, and considerable scholarship, Zaretsky takes on psychoanalysis…His achievement — a scholarly, readable intellectual history of lasting value on a complex, important topic — is essential." —Library Journal (starred review)

"[Zaretsky] offers an important new model of autonomy and self-reflection, and a sustained and moving inquiry into the meaning of the human. Zaretsky teaches us how to think capaciously and well. An encompassing and probing work." –Judith Butler, Maxine Elliot Professor, University of California at Berkeley

"A tremendous accomplishment. . . . The best book on psychoanalysis and its historical impact. . . . Superbly written and full of wonderful insights." –Paul Robinson, Richard W. Lyman Professor in the Humanities, Stanford University

"An intelligent, thoroughly well-informed effort to fit Freud's psychoanalysis into its culture, a history-minded enterprise that analysis badly needs." –Peter Gay, Sterling Professor of History Emeritus, Yale University
Advertisement