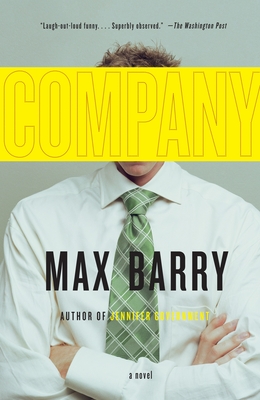 Company (Vintage Contemporaries) (Paperback)
Vintage, 9781400079377, 352pp.
Publication Date: March 13, 2007
* Individual store prices may vary.
Description
Stephen Jones is a shiny new hire at Zephyr Holdings. From the outside, Zephyr is just another bland corporate monolith, but behind its glass doors business is far from usual: the beautiful receptionist is paid twice as much as anybody else to do nothing, the sales reps use self help books as manuals, no one has seen the CEO, no one knows exactly what they are selling, and missing donuts are the cause of office intrigue. While Jones originally wanted to climb the corporate ladder, he now finds himself descending deeper into the irrational rationality of company policy. What he finds is hilarious, shocking, and utterly telling.
About the Author
Max Barry began removing parts at an early age. In 1999, he successfully excised a steady job at tech giant HP in order to upgrade to the more compatible alternative of manufacturing fiction. While producing three novels, he developed the online nation simulation game NationStates, as well as contributing to various open source software projects and developing religious views on operating systems. He did not leave the house much. For Machine Man, Max wrote a website to deliver pages of fiction to readers via email and RSS. He lives in Melbourne, Australia, with his wife and two daughters, and is 38 years old. He uses vi.
Praise For Company (Vintage Contemporaries)…
"Laugh-out-loud funny. . . . Superbly observed." —The Washington Post"Hilarious. . . . Barry underscores his credentials as both satirist and saboteur. . . . Company is Mr. Barry's breakout book." —The New York Times"Establishes Barry as one of the keenest and shrewdest minds in corporate satire... utterly original... A-."—Entertainment Weekly"Biting, hilarious. . . . For anyone who considers corporate life insane." —People