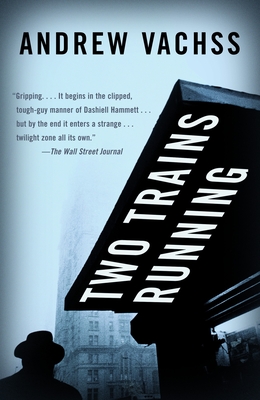 Two Trains Running (Paperback)
Vintage Books USA, 9781400079384, 447pp.
Publication Date: June 6, 2006
* Individual store prices may vary.
or
Not Currently Available for Direct Purchase
Description
In his most original and compelling book yet, Andrew Vachss presents an electrifying tale of corruption in a devastated mill town. It is 1959--a moment in history when the clandestine, powerful forces that will shape America to the present day are about to collide.Walker Dett is a hired gun, known for using the most extreme measures toaccomplish his missions. Royal Beaumont is the "hillbilly boss"who turned Locke City from a dying town into a thriving vice capital. But organized crime outsiders are moving in onBeaumont's turf, so he reaches out forDett in a high-risk move to maintain his power at all costs. Adda rival Irish political machine, a deeply entrenched neo-Nazi "party," the nascent black power movement, turf-disputing juvenile gangs, a muck-raking journalist who doubles as a blackmailer, the FBI--a covertobserver and occasional participantwhich may itself be under surveillance-- and Locke City is about as stable as anitroglycerintruck stalled on the railroad tracks.
About the Author
Andrew Vachss is a lawyer who represents children and youths exclusively. His many novels include the Burke series and two collections of short stories. His books have been translated into twenty languages, and his work has appeared in Parade, Antaeus, Esquire, Playboy, The New York Times, among other publications. He divides his time between his native New York City and the Pacific Northwest.
Praise For Two Trains Running…
"Gripping. . . . It begins in the clipped, tough-guy manner of Dashiell Hammett . . . but by the end it enters a strange . . . twilight zone all its own." --The Wall Street Journal"Ambitious, expansive. . . . Walker Dett [is] a superb creation." --Entertainment Weekly"A sprawling epic. . . . A raw portrait of a volatile era." --Philadelphia City Paper"If you're craving a midsummer mystery . . . Andrew Vachss has something special for youÉa dark, violent and even weird tale. . . . The plot . . . zips ahead with the speed of one of those dangerously overpowered late-1950s Oldsmobile 88s. . . . The bits and pieces cut back and forth among the characters, like a fast-paced movie." --St. Louis Post-Dispatch
Advertisement