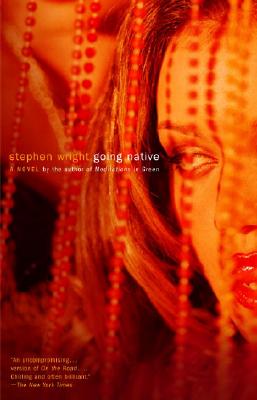 Going Native (Paperback)
Vintage Contemporaries, 9781400079421, 305pp.
Publication Date: April 12, 2005
* Individual store prices may vary.
or
Not Currently Available for Direct Purchase
Description
Going Native is Stephen Wright's darkly comic take on the road novel, in which one man's headlong escape from the American Dream becomes everybody's worst nightmare. Wylie Jones is set: lovely wife, beautiful kids, barbecues in the backyard of his tastefully decorated suburban Chicago house with good friends. Set, but not satisfied. So one night he just walks out, gets behind the wheel of a neighbor's emerald-green Galaxy 500, and drives off into some other life, his name changed, his personality malleable. In Wright's inimitable narrative, we re taken on a joy ride to hell, a rollercoaster of sex and violence and the peculiar mix of the two that is our society today.
About the Author
Stephen Wright is the author of Meditations in Green, M31: A Family Romance, and Going Native.
Praise For Going Native…
"An uncompromising . . . version of On the Road. . . . Chilling and often brilliant." –The New York Times

"A road novel, a diabolic picaresque, a pilgrim's progress that becomes a dance of death, a voyage to the end of night, an executioner's song. . . . An impressive literary performance." –The Wall Street Journal

"A dark, delirious journey down the highway of the contemporary soul. . . . Mr. Wright shares obvious fictional territory with writers like Don DiLillo and Thomas Pynchon, and yet his prose bursts with originality." –The New York Times Review of Books

"Dazzling, eerie. . . . Stephen Wright rides shotgun through a disturbed America. . . . [He] stands America's Most Wanted on its head." –Esquire

"He broadcasts an English as electrically intoxicating as a mescaline slurpee. . . . Wright doesn't supply answers, just dark and rapturous neon reflections of the society of spectacle in this hilariously mordant and discombobulating book." –The Village Voice Literary Supplement

"Brutal subject matter and a knife-edged style are the formula for noir, and Going Native is glitteringly noir. Often it reminds me of Orson Welles' deliciously sleazy Touch of Evil." –The New Yorker

"Daring . . . a disturbing look into the nether world of American culture. . . . Many of Wright's sentences haunt the reader's mind and demand contemplation. . . . The work of an accomplished writer who may soon be regarded among the top echelon of contemporary American novelists." –San Francisco Chronicle

"An astonishing novel." –Toni Morrison

"A witty, prodigal and desolate novel of virtual reality. . . . A bleak vision of America haunted by Vietnam, desperate with boredom, eager to kill, gaga over flying saucers, addled by drugs, lobotomized by television. . . . Wylie . . . is Wright's picaresque protagonist for our near-21st century." –New York Newsday

"[A] sinister comic novel. . . . Wright writes an energetic prose full of quirky images and plots each chapter like a slasher movie, for maximum suspense." –Entertainment

"A sensational prime-time novel. . . . Imagine a pornographic twilight zone of beebee-eyed serial killers, drug-stunned pants-dropping road-warriors and 'marauding armies of mental vampires,' a nightmarish country of unparalleled savagery, where there is no longer any membrane between screen and life and the monster image feed is inexhaustible and the good guys are the scariest ones of all." –Robert Coover

"A phantasmagoria of roadside attractions: Drugs, truckers, flophouses, movie stars, amateur porn–the miasma that rises from a red, white, and blue-balled pop culture." –Spin

"A zelig for the disenchanted. . . . Wright . . . is turning over the outsized rhinestones that glitter in the national psyche to see what crawls out from underneath. . . . Inventive and intense, full of new twists on old clichés. . . . This is a dangerous writer, and he knows where we live." –Men's Journal

"Strange, dark and funny, a slasher classic." –Don DeLillo

"Hypnotic intensity . . . panoramic prose . . . comically hip dialogue. . . . Going Native has the impact of an X-Acto knife slitting open the bloated belly of American life." –People

"Sure-footed, loose-limbed, lyrical, perverse, and deeply, alarmingly funny, Going Native is just about as dead-on crazy as the American novel so desperately needs to be if the form intends to survive the century. Stephen Wright is a major talent." –William Gibson

"A deranged roadtrip through the American media-saturated underbelly. Brandishing a gun-of-the-moment and an attitude defying dislocation, Wylie deserts his humdrum suburban life outside of Chicago and embraces experiential chaos. . . . With his razor wit and unabashed eye for detail, Wright takes normalcy to task. He celebrates the primitive compulsions that lie, just barely, below our civilized surface." –BOMB
Advertisement