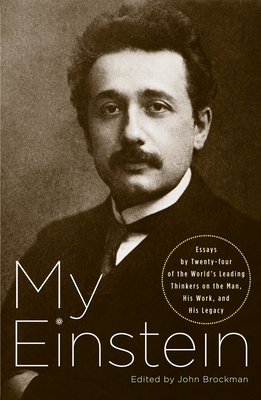 My Einstein: Essays by Twenty-Four of the World's Leading Thinkers on the Man, His Work, and His Legacy (Paperback)
Essays by Twenty-Four of the World's Leading Thinkers on the Man, His Work, and His Legacy
Vintage, 9781400079506, 288pp.
Publication Date: August 14, 2007
* Individual store prices may vary.
or
Not Currently Available for Direct Purchase
Description
In this fascinating volume, today's foremost scientists discuss their own versions and visions of Einstein: how he has influenced their worldviews, their ideas, their science, and their professional and personal lives. These twenty-four essays are a testament to the power of scientific legacy and are essential reading for scientist and layperson alike.Contributors include: Roger Highfield on the Einstein myth John Archibald Wheeler on his meetings with Einstein Gino C. Segre, Lee Smolin, and Anton Zeilinger on Einstein's difficulties with quantum theory Leon M. Lederman on the special theory of relativity Frank J. Tipler on why Einstein should be seen as a scientific reactionary rather than a scientific revolutionary.
About the Author
John Brockman has edited nearly 20 books and is the author of three: By the Late John Brockman, The Third Culture, and Digerati: Encounters with the Cyber Elite. He is the founder and CEO of Brockman Inc., an International literary and software agency, president of Edge Foundation, Inc., and publisher and editor of Edge, a website presenting the third culture in action. A well-known computer and Internet entrepreneur and visionary, his work is frequently featured in the media.
Praise For My Einstein: Essays by Twenty-Four of the World's Leading Thinkers on the Man, His Work, and His Legacy…
"My Einstein delivers even more than its lengthy title promises." —TheWashington Post"These essays are irresistible." —The Buffalo News"My Einstein is a gem of a book that celebrates not only Einstein the scientist but also Einstein the man, even though it is a collection of essays written by scientific figures ... The result is a remarkably well-rounded figure." —Deseret Morning News"Excellent." —Tucson Citizen
Advertisement