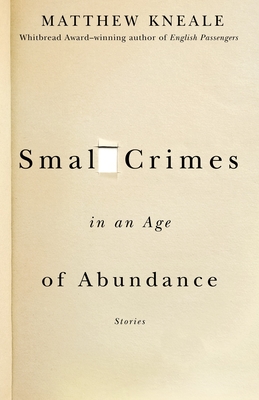 Small Crimes in an Age of Abundance (Paperback)
Anchor Books, 9781400079575, 208pp.
Publication Date: March 14, 2006
Description
A well-intentioned English family unwittingly becomes complicit in state violence while traveling through China. A ploddingly respectable London lawyer chances upon a stash of cocaine and realizes it offers the wealth and status he's always hungered for. A salesman in Africa gets caught up in a riot, and a Palestinian suicide bomber has a moment of self-doubt. Kneale transports readers across continents in a nanosecond, reaching to the heart of faraway societies with rare perceptiveness. With wry humor and razor-sharp satire, these twelve thought-provoking stories illuminate the moral uncertainty of our time.
About the Author
Matthew Kneale is the author of serveral novels, including "English Passengers," which won the Whitbread Book of the Year 2000 award and was short-listed for the Booker Prize. He lives in Rome, Italy.
Praise For Small Crimes in an Age of Abundance…
"Electrifies. . . . A firecracker in broad daylight, an out-of-nowhere bombshell sure to throw some sparks in the literary world. . . . Kneale's characters are wholly believable, his plots flawless. . . . [He is an] extraordinary author." —The San Diego Union-Tribune

"Pitch-perfect. . . . Moves and transforms with a satisfying snap." —New York Post

"Powerful. . . . Instantly engaging. . . . An irresistible literary feast." —Time Out (London)

"Matthew Kneale has mastered [the] genre. . . . [He] has captured . . . the complexity of the world and the ways that people cope, or not, showcasing situations of moral ambiguity where roads not taken make all the difference." —The Seattle Times

"Brilliant. . . . Well-crafted. . . . Perfect little tales, replete with short and witty denouements. . . . Every one of these 'crimes' is a page-turner." —New Statesman

"English Passengers is what fiction ought to be: ambitious, narrative-driven, with a story and a quest we don't mind going on. On page after page I found myself laughing or nodding or simply envious.
I was compelled from first to last and beyond. The characters are still living with me."
—Nicholas Shakespeare, author of Bruce Chatwin: A Biography

"A robust intellectual entertainment: a comic sea-adventure, survival tale and quest for the Garden of Eden all rolled into one."
—The Globe and Mail

"Every page fizzes with linguistic invention, and the interweaving of high comedy with dramatic terror is expertly handled."
—The Guardian

"Sometimes a book comes along so full of wit and charm that it makes you glad you learned to read."
—Houston Chronicle
Advertisement