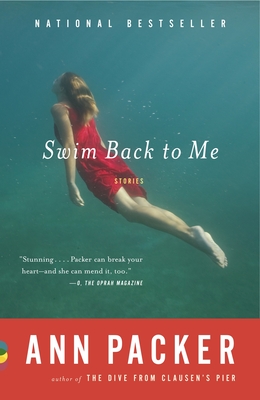 Swim Back to Me (Vintage Contemporaries) (Paperback)
Vintage, 9781400079735, 240pp.
Publication Date: April 3, 2012
* Individual store prices may vary.
Description
Ann Packer is one of our most talented observers of family life, with its hidden crevasses and unforeseeable perils. In these unforgettable, emotionally searing stories, she explores the moral predicaments that define our lives, the frailty of ordinary grace, and the ways in which we are shattered and remade by loss.
About the Author
Ann Packer is the author of two best-selling novels, Songs Without Words and The Dive from Clausen's Pier, the latter of which received a Great Lakes Book Award, an American Library Association Award, and the Kate Chopin Literary Award. Her short fiction and essays have appeared in The New Yorker, The Washington Post, Vogue, and Real Simple. Also the author of Mendocino and Other Stories, she lives in northern California with her family.
Praise For Swim Back to Me (Vintage Contemporaries)…
"Stunning. . . . Packer can break your heart—and she can mend it, too. " —O, The Oprah Magazine
 
"A tour de force. . . . With this collection, Ann Packer takes her place among today's best authors of literary fiction." —The Minneapolis Star-Tribune
 
"[Packer's] patient investigations reveal human longing in such clear, stripped-down familiarity—never shirking from the difficult—that readers experience a singular sense of comfort." —San Francisco Chronicle
 
"Exhilarating. . . . Searing. . . . [Packer's] stories brim with piercing vitality and clear-eyed believability." —The Washington Post
 
"Packer paints these lives with full and compassionate brush strokes." —The New York Times Book Review
 
"As audacious, imaginative and poignant as any of [Packer's] previous work. . . . Packer can compress a lifetime of hope and sorrow in a short story, and in a brief paragraph can suggest the unspoken language of marriage and family." —The Miami Herald
 
"Wonderful. . . . [A] lovely, masterful collection." —The Boston Globe

"Ann Packer's Swim Back to Me reminded me of why I fell in love with literature in the first place. Upon closing the book, I thought, 'I'll read this again'. . . . Packer's stories stick with you." —Susan Baleé, The Philadelphia Inquirer
 
"Packer . . . is a master at getting to the heart of characters struggling on in the face of loss. . . . Swim Back to Me is best enjoyed for Packer's sharply focused snapshots of people at pivotal points in their lives, a focus so intense that we can feel as if we're spying on them. " —St. Louis Post-Dispatch
 
"[Beginning] Packer's stories feels as nonchalant as stepping into a puddle but results in a sudden plunge into deep water. . . . Potent and deftly written."  —Dallas Morning News
 
"An author who speaks with her full voice. . . . The people in Packer's stories are so possible and so familiar, reading about them is like flipping through a photo album with someone you've always known." —San Francisco magazine
 
"Anyone intrigued by the ways we both fail and save one another will find ample food for thought here." —People
 
"Deeply engrossing. . . . Illuminates the instant, in the darkest hour of grief, when the heart opens wider than ever before—and shows us a new way of being." —More
 
"Gripping. . . . A stunning look into how we learn and sometimes fail to live with each other." —The Daily Beast
 
"Touching, tender and true." —The Austin American Statesman
 
"Utterly readable. . . . Ann Packer has a talent for creating authentic, absorbing characters." —Ladies Home Journal
 
 "A keen observer of family dynamics. . . . Packer the novelist is equally adept at the short form." —The Oakland Tribune
 
"Packer's descriptions of what crisis looks like from the inside out are almost always word-perfect." —Toledo Blade
 
"Subtle, deeply personal. . . . [An] excellent collection." —Bookreporter.com
 
"Powerful . . . satisfying. . . . Packer's characters are fully developed with emotions that feel authentic." —BookPage


or
Not Currently Available for Direct Purchase