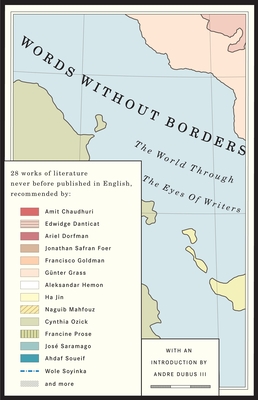 Words Without Borders
The World Through the Eyes of Writers: An Anthology
Paperback

* Individual store prices may vary.
Description
Featuring the work of more than 28 writers from upwards of 20 countries, this collection transports us to the frontiers of twenty-first century literature.
In these pages, some of the most accomplished writers in world literature–among them Edwidge Danticat, Ha Jin, Cynthia Ozick, Javier Marias, and Nobel laureates Wole Soyinka, Günter Grass, Czeslaw Milosz, Wislawa Szymborska, and Naguib Mahfouz–have stepped forward to introduce us to dazzling literary talents virtually unknown to readers of English. Most of their work–short stories, poems, essays, and excerpts from novels–appears here in English for the first time.
The Chilean writer Ariel Dorfman introduces us to a story of extraordinary poise and spiritual intelligence by the Argentinian writer Juan Forn. The Romanian writer Norman Manea shares with us the sexy, sinister, and thrillingly avant garde fiction of his homeland's leading female novelist. The Indian writer Amit Chaudhuri spotlights the Bengali writer Parashuram, whose hilarious comedy of manners imagines what might have happened if Britain had been colonized by Bengal. And Roberto Calasso writes admiringly of his fellow Italian Giorgio Manganelli, whose piece celebrates the Indian city of Madurai.
Every piece here–be it from the Americas, Africa, Europe, the Middle East, South Asia, East Asia, Southeast Asia, or the Caribbean–is a discovery, a colorful thread in a global weave of literary exchange.
Edited by Samantha Schnee, Alane Salierno Mason, and Dedi Felman
Anchor, 9781400079759, 384pp.
Publication Date: March 13, 2007
About the Author
ALANE SALIERNO MASON is a senior editor at W. W. Norton & Company. She lives in New York City.
DEDI FELMAN is a writer, editor, and story developer at Book Doctor West. She lives in Los Angeles, California.
SAMANTHA SCHNEE is the former senior editor of Zoetrope: All-Story. She lives in Houston, Texas.
All three are editors at WORDS WITHOUT BORDERS (WWB), the online magazine for international literature (www.wordswithoutborders.org). A partner of PEN American Center, WWB is hosted by Columbia University and Bard College and funded by the National Endowment for the Arts.