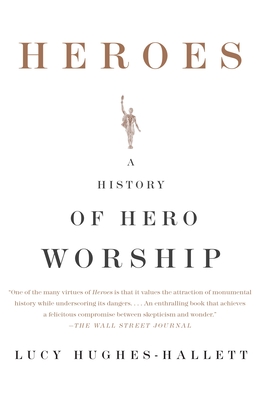 Heroes
A History of Hero Worship
Paperback

* Individual store prices may vary.
Description
Beginning beneath the walls of Troy and culminating in 1930s Europe, a magisterial exploration of the nature of heroism in Western civilization.

In this riveting and insightful cultural history, Lucy Hughes-Hallett brings to life eight exceptional men from history and myth to explore our timeless need for heroes. As she re-creates these extraordinary lives, Hughes-Hallett illuminates the attractions and dangers of hero worship. This is a fascinating book about dictatorship and democracy, seduction and mass hysteria, politics and culture, and the tensions between being good and being great.
Praise For Heroes: A History of Hero Worship…
"One of the many virtues of Heroes is that it values the attraction of monumental history while underscoring its dangers. . . . An enthralling book that achieves a felicitous compromise between skepticism and wonder." –The Wall Street Journal

"Wonderful. . . . A great treat. . . . Gloriously packed with meaningful curiosities, the kinds of things that make a historical moment flash into being." –The Washington Post Book World

"Authoritative. . . . Artful. . . . [Hughes-Hallett] achieves a balanced and well-assessed survey, with nimble wit, wide knowledge and what seems like peerless insight." –San Francisco Chronicle

"Hughes-Hallett is a wonderful writer and these stories—often-byzantine narratives of reversals and comebacks, schemes and counterschemes—are carried by the graceful vigor of her prose. . . . Thrilling and captivating." –The Wilson Quarterly
Anchor, 9781400079797, 528pp.
Publication Date: December 5, 2006
About the Author
Lucy Hughes-Hallett is a critic for The Sunday Times (London) and the author of Cleopatra: Histories, Dreams and Distortions. She lives in London with her husband and daughter, and is at work on a book about Gabriele d'Annunzio and the origins of Italian fascism.