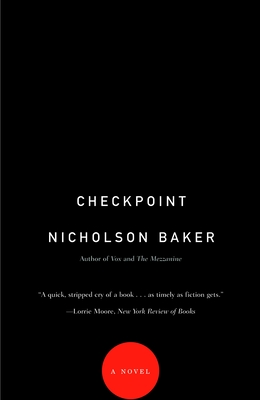 Checkpoint (Paperback)
Vintage Books USA, 9781400079858, 115pp.
Publication Date: April 12, 2005
Description
From Nicholson Baker, best-selling author of Vox and the most original writer of his generation, his most controversial novel yet.
About the Author
Nicholson Baker was born in 1957 and attended the Eastman School of Music and Haverford College. He has published six previous novels and three works of nonfiction, including Double Fold, which won a National Book Critics Circle Award in 2001. From the Hardcover edition.
Praise For Checkpoint…
"A quick, stripped cry of a book. . . . As timely as fiction gets." –Lorrie Moore, New York Review of Books"Provocative . . . incendiary . . . a great work." –Rick Moody, The Believer "A meditation on action . . . [Baker] analyses the details of daily life with a surgeon's precision." –The Economist"If one of our supreme chroniclers of mild manners can be roused to such patriotic indignation, democracy yet has a fighting chance." –Voice Literary Supplement "A ripped-from-the-headlines docudrama for the printed page, a timely and tense screed for a divided country hurtling toward who knows where." –Associated Press"Checkpoint is about limits–of presidential power, of law, of discourse, of rationality, and of language itself." –Boston Phoenix"Compelling . . . a passionate cry from the heart." –USA Today"What makes Baker original is his minute obsessiveness and his willingness to entertain inappropriate subjects. . . Checkpoint takes Baker's obsessiveness and inappropriateness into the public realm." –Newsweek "An astonishing, uncomfortable conversation. Baker has a real ear for the cadence and wryness of the modern intelligentsia." –Portland Oregonian"Baker's new novel checks its inhibitions at the door . . . entertaining, edgy and unpredictable." –Las Vegas City Life"Sly, slender but important . . . Baker excels at writing about those facets of the human experience we prefer to hide." –San Francisco Chronicle"This novel could be a kind of record of our times. . . . Its goal is to take [the] internal combustion process of hatred and anger and make it visible–which Baker does brilliantly." –Pittsburgh Post-Gazette"On the whole, Baker improves upon Samuel Beckett's [Godot]. Baker's jokes will make people, rather than theatre majors, laugh." –Los Angeles Times"Checkpoint is like a hornet: It's small, quiet, with a sinister aspect to its midday peregrinations, and it has a stinger: conscience." –Toronto Globe and Mail"I confess to finding Nicholson Baker's prose so witty and hypnotic that I never want it to stop." –Washington Post"Baker writes like no one else in America." –Newsweek"Baker [is] one of our most gifted and original writers." –Seattle Times"Enthusiast, obsessive, visionary, engineer of the everyday–there's nobody quite like Baker in the literary universe." –Newsday"[Baker's] prose is so luminescent and so precise it manually recalibrates our brains." –Time
Advertisement