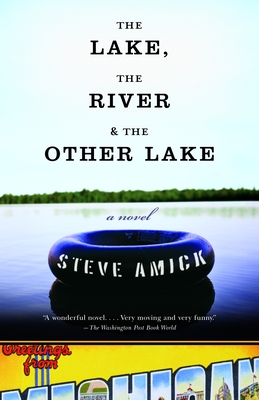 The Lake, the River & the Other Lake (Paperback)
Anchor Books, 9781400079940, 365pp.
Publication Date: May 9, 2006
Description
The resort town of Weneshkeen, nestled along Michigan's Gold Coast, has become a complex melting pot: townies and old timers mix with ritzy summer folk, migrant cherry pickers, wily river guides, and a few Ojibwe Indians. As the summer blooms, these lives mingle in surprising ways-a lifelong resident and Vietnam Vet pursues the take-no-guff deputy sheriff, while plotting revenge against the jet-skiers polluting his beloved lake; a summer kid from downstate stumbles into a romance with the sexiest rich girl in town; the town's retired reverend discovers the Internet and a new friend in his computer tutor. A resonant social comedy with richly-drawn characters and quirky charm, The Lake, the River & the Other Lake welcomes you into a world that you may never want to leave.
About the Author
Steve Amick's short fiction has appeared in McSweeney's, The Southern Review, The New England Review, Playboy, Story, the anthology The Sound of Writing, and on National Public Radio. He has an MFA from George Mason University and has been a college instructor, playwright, copywriter, songwriter, and musician. He lives in Michigan, dividing his time between his hometown, Ann Arbor, and a family cottage on a famously clear lake along the northern edge of the Lower Peninsula.
Praise For The Lake, the River & the Other Lake…
"A wonderful novel. . . . Very moving and very funny." —The Washington Post Book World

"A comic novel with a dark and thoughtful edge, which is the mark of all good comedy. There is enough absurdity and energetic plotting here, enough incongruity and haplessness to keep the laughs coming." —Chicago Tribune

"Amick displays myriad gifts throughout, creating a believable, heartfelt fictional world and ambitiously introducing a symphonic arrangement of stories. . . . It's a summer well spent in Amick's amiable company." —San Francisco Chronicle

"The last writer to celebrate the charms of rural Michigan with equal panache was probably Ernest Hemingway." —Los Angeles Times
Advertisement