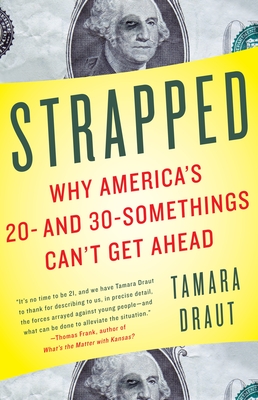 Strapped: Why America's 20- And 30-Somethings Can't Get Ahead (Paperback)
Why America's 20- And 30-Somethings Can't Get Ahead
Anchor Books, 9781400079971, 285pp.
Publication Date: January 9, 2007
Description
Drowning in student loans? Can t afford to get married, buy a home, have children? Up to your ears in credit card debt? At last, a book for the under-35 generation that explains why it's not their fault, and what can be done about it. Strapped offers a groundbreaking look at the new obstacle course facing young adults. Getting ahead, argues commentator and policy maven Tamara Draut, is getting harder. A college degree is the new high school diploma and costs a fortune to obtain. Good jobs are scarcer thanks to stagnant wages and disappearing benefits. And, the cost of everything starter homes, health coverage, child care keeps going up. Witty and wise, Strapped brims with ideas for fashioning a new kind of America in which every young person can go to college, buy a home, and start a family. The future starts here.
About the Author
Tamara Draut is Director of the Economic Opportunity Program at Demos, a national think tank headquartered in New York City. Her research and writing have appeared in The New York Times, The Wall Street Journal, USA Today, and Newsweek. A frequent commentator, Draut has appeared on CNN Headline News, CNN's Lou Dobbs Tonight, CNBC's Closing Bell, and ABC's World News Tonight. She lives in New York City with her husband.
Praise For Strapped: Why America's 20- And 30-Somethings Can't Get Ahead…
"It's no time to be 21, and we have Tamara Draut to thank for describing to us, in precise details, the forces arrayed against young people — and what can be done to alleviate the situation." —Thomas Frank, author of What's the Matter with Kansas"A convincing, impressively researched call-to-arms. . . . Fast-paced, informative prose, amply supported by statistics." —San Francisco Chronicle"Persuasive. . . .The 30-something author knows whereof she writes." —The Washington Post"Draut's presentation will convince many and may be useful even to those who disagree with her. . . . Parents and young adults definitely need to read this book and have conversations afterward." —USA Today
Advertisement