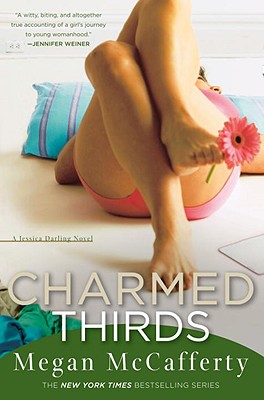 Charmed Thirds (Paperback)
A Jessica Darling Novel
Broadway Books, 9781400080434, 384pp.
Publication Date: April 24, 2007
Other Editions of This Title:
Digital Audiobook (4/10/2006)
Digital Audiobook (4/10/2006)
* Individual store prices may vary.
Description
Jessica Darling's in college!

Things are looking up for Jessica Darling. She has finally left her New Jersey hometown/hellhole for Columbia University in New York City; she's more into her boyfriend, Marcus Flutie, than ever (so what if he's at a Buddhist college in California?); and she's making new friends who just might qualify as stand-ins for her beloved best friend, Hope.

But Jessica soon realizes that her bliss might not last. She lands an internship at a snarky Brooklyn-based magazine, but will she fit in with the überhip staff (and will she even want to)? As she and Marcus hit the rocks, will she end up falling for her GOPunk, neoconservative RA . . . or the hot (and married!) Spanish grad student she's assisting on a summer project . . . or the oh-so-sensitive emo boy down the hall? Will she even make it through college now that her parents have cut her off financially? And what do the cryptic one-word postcards from Marcus really mean?

With hilarious insight, the hyperobservant Jessica Darling struggles through her college years—and the summers in between—while maintaining her usual mix of wit, cynicism, and candor.
About the Author
Megan McCafferty is the author of the hit novels Sloppy Firsts and Second Helpings, and the editor of the short story collection Sixteen. A graduate of Columbia University, she lives in New Jersey with her husband and young son. Megan is currently working on her next book in the Jessica Darling series. To find out more go to MeganMcCafferty.com.
Praise For Charmed Thirds: A Jessica Darling Novel…
"Charmed Thirds is a witty, biting, and altogether true accounting of a girl's journey to young womanhood, complete with all of the cringe-inducing, hilarious moments of love, shame, and uncertainty that readers will remember from their own lives." —Jennifer Weiner, author of Goodnight Nobody and Good in Bed

"Megan McCafferty rocks! Her sharp wit and keen satirical eye make her books automatic must-reads." —Meg Cabot, author of the Princess Diaries series and Size 12 Is Not Fat

"McCafferty captures the college years with incredible grace and insight. Charmed Thirds is a wondrous, heroically honest trip back to a time when you were two-thirds done becoming yourself, and tumbling head over heels the rest of the way." —Joseph Weisberg, author of 10th Grade

"Megan McCafferty's series about Jessica Darling (in college now) has only improved with age. Charmed Thirds is funny, smart, and irresistible." —Valerie Frankel, author of The Accidental Virgin and Fringe Girl

"Megan McCafferty puts Jessica Darling through college in Charmed Thirds, and in the process turns her from a tart-tongued New Jersey high school philosopher into a heart-wrenching representation of all things uncertain. If she's not careful, she might end up with a heroine for our times." —Ned Vizzini, author of Be More Chill and It's Kind of a Funny Story

"Sloppy Firsts, Second Helpings and now Charmed Thirds may be about a young woman's amusing and rocky journey to adulthood, but they are smart and accomplished enough to delight all readers. Jessica's an original, but her problems are universal, and McCafferty is formidably adept at channeling her self-deprecating, wise-guy voice. If you don't see yourself in Jessica Darling, you're not looking hard enough"
- Chicago Tribune

"It's Jessica, her wit and, especially, her utterly droll take on life, that draws readers (fans of the series include adult women as well as teens) into McCafferty's books. Entirely too smart for her own good, Jessica offers brilliant and cutting insights into the world of the adolescent about-to-be-a-woman"
- Chicago Sun Times