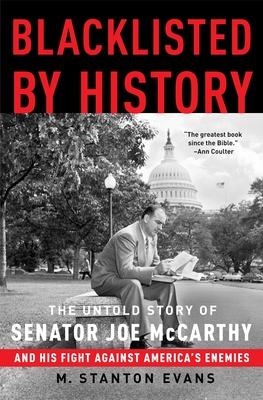 Blacklisted by History: The Untold Story of Senator Joe McCarthy and His Fight Against America's Enemies (Paperback)
The Untold Story of Senator Joe McCarthy and His Fight Against America's Enemies
Three Rivers Press (CA), 9781400081066, 663pp.
Publication Date: November 24, 2009
Description
Accused of creating a bogus Red Scare and smearing countless innocent victims in a five-year reign of terror, Senator Joseph McCarthy is universally remembered as a demagogue, a bully, and a liar. History has judged him such a loathsome figure that even today, a half century after his death, his name remains synonymous with witch hunts. But that conventional image is all wrong, as veteran journalist and author M. Stanton Evans reveals in this groundbreaking book. The long-awaited Blacklisted by History, based on six years of intensive research, dismantles the myths surrounding Joe McCarthy and his campaign to unmask Communists, Soviet agents, and flagrant loyalty risks working within the U.S. government. Evans's revelations completely overturn our understanding of McCarthy, McCarthyism, and the Cold War. Drawing on primary sources--including never-before-published government records and FBI files, as well as recent research gleaned from Soviet archives and intercepted transmissions between Moscow spymasters and their agents in the United States--Evans presents irrefutable evidence of a relentless Communist drive to penetrate our government, influence its policies, and steal its secrets. Most shocking of all, he shows that U.S. officials supposedly guarding against this danger not only let it happen but actively covered up the penetration. All of this was precisely as Joe McCarthy contended. Blacklisted by History shows, for instance, that the FBI knew as early as 1942 that J. Robert Oppenheimer, the director of the atomic bomb project, had been identified by Communist leaders as a party member; that high-level U.S. officials were warned that Alger Hiss was a Soviet spy almost a decade before the Hiss case became a public scandal; that a cabal of White House, Justice Department, and State Department officials lied about and covered up the Amerasia spy case; and that the State Department had been heavily penetrated by Communists and Soviet agents before McCarthy came on the scene. Evans also shows that practically everything we've been told about McCarthy is false, including conventional treatment of the famous 1950 speech at Wheeling, West Virginia, that launched the McCarthy era ("I have here in my hand . . ."), the Senate hearings that casually dismissed his charges, the matter of leading McCarthy suspect Owen Lattimore, the Annie Lee Moss case, the Army-McCarthy hearings, and much more. In the end, Senator McCarthy was censured by his colleagues and condemned by the press and historians. But as Evans writes, "The real Joe McCarthy has vanished into the mists of fable and recycled error, so that it takes the equivalent of a dragnet search to find him." Blacklisted by History provides the first accurate account of what McCarthy did and, more broadly, what happened to America during the Cold War. It is a revealing expose of the forces that distorted our national policy in that conflict and our understanding of its history since. From the Hardcover edition.
About the Author
M. Stanton Evans is the author of seven books, including The Theme Is Freedom. A contributing editor at Human Events, he served for many years as director of the National Journalism Center. Evans was previously the editor of the Indianapolis News, a columnist for the Los Angeles Times Syndicate, and a commentator for CBS and Voice of America. He lives near Washington, D.C. From the Hardcover edition.
Praise For Blacklisted by History: The Untold Story of Senator Joe McCarthy and His Fight Against America's Enemies…
"America, please read this book."
-Glenn Beck

"the greatest book since the Bible"
-Ann Coulter, Creators Syndicate
 
"It takes M. Stanton Evans's meticulous investigative journalism to show what Joe McCarthy's short stay on the national stage (a little under five years, from February 1950 to December 1954) really was about."
-Robert Novak, Weekly Standard
 
"So comprehensive is Evans's research that it will be a foolish historian who does not consult Blacklisted by History when a question arises over some person or event that comes into the McCarthy story."
-John Earl Haynes, co-author, Venona: Decoding Soviet Espionage in America
 
"This book will change forever how you think about Sen. McCarthy and the Soviet penetration of the U.S. government and society."
-Bob McMahan, Foreign Service Journal
 
"Evans goes through extensive files and transcripts with complete mastery of complex material and an engaging turn of phrase that makes more than 600 pages of painstaking analysis both a triumph of historical scholarship and a gripping detective story."
-David Ashton, The Salisbury Review
 
"Of the hundreds of books on the McCarthy era, Stan Evans has written the best—a nuanced, incredibly detailed work of scholarship."
-William Schulz, The American Spectator
 
"In this masterful instant classic, M. Stanton Evans sets out to tell the 'Untold Story of Joe McCarthy' and does so definitively."
-Jack Cashill, WorldNetDaily
 
"This is a master newspaperman at work: digging, interviewing the record, pulling apart and putting together the details of deeds done mostly by the politicians who ran our imperfect national government in the nineteen fifties."
-John Willson, Chronicles
 
"After combing through masses of declassified documents from Congress, the FBI, the State Department and other federal agencies, Stan Evans has produced a masterpiece of tru th."
-Terry Jeffrey, Human Events
 
"Evans, a veteran journalist, doesn't shout. He displays, instead, a deadly meticulousness that is, at last, overwhelmingly convincing."
-William Rusher, United Features Syndicate
 
"the most thorough scholarly examination of [McCarthy's] career"
-Cliff Kincaid, Accuracy In Media
 
"brilliantly documented"
-Wes Vernon, RenewAmerica.us
 
"monumental ... the result of six years of reading primary sources. Evans proves that almost everything about McCarthy in current history books is a lie and wil l have to be revised.... one of Reagan's old radio commentaries referred to Evans as 'a very fine journalist.' He is, indeed, but this book shows that he also is a Sherlock Holmes-type detective who chased every clue to find the truth and to write accurate history in elegant prose..... Everyone who henceforth writes about Joe McCarthy will have to check his facts with Evans' documented discoveries."
-Phyllis Schlafly, Creators Syndicate
 
Advertisement