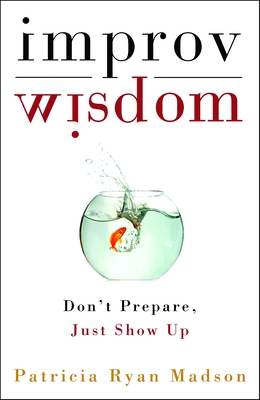 Improv Wisdom: Don't Prepare, Just Show Up (Hardcover)
Don't Prepare, Just Show Up
Bell Tower, 9781400081882, 159pp.
Publication Date: May 3, 2005
Description
In an irresistible invitation to lighten up, look around, and live an unscripted life, a master of the art of improvisation explains how to adopt the attitudes and techniques used by generations of musicians and actors. Let's face it: Life is something we all make up as we go along. No matter how carefully we formulate a "script," it is bound to change when we interact with people with scripts of their own. Improv Wisdom shows how to apply the maxims of improvisational theater to real-life challenges--whether it's dealing with a demanding boss, a tired child, or one of life's never-ending surprises. Patricia Madson distills thirty years of experience into thirteen simple strategies, including "Say Yes," "Start Anywhere," "Face the Facts," and "Make Mistakes, Please," helping readers to loosen up, think on their feet, and take on everything life has to offer with skill, chutzpah, and a sense of humor.
About the Author
Patricia Ryan Madson is a professor emerita at Stanford University, where she began teaching in 1977. She founded the Stanford Improvisors in 1991, and as head of the undergraduate acting program, she won the university's highest teaching prize, the Lloyd W. Dinkelspiel Award for outstanding contribution to undergraduate education. She also teaches at the Esalen Institute and for Stanford's Continuing Studies. Patricia lives with her husband, Ronald Madson, and their Himalayan cat, Buddha, in El Granada, California, where they direct the California Center for Constructive Living.
Praise For Improv Wisdom: Don't Prepare, Just Show Up…
"A marvelous guide to freedom and delight. Improv has become a wisdom tradition of its own and Patricia shows how its lessons can bring out the best in us." —John Tarrant, author of Bring Me the Rhinoceros

"Patricia Ryan Madson is one of Stanford's truly inspired teachers; she has changed the lives of thousands of students over the past twenty-eight years. In her smiling book, Improv Wisdom, she reminds us that being alive is like riding a bicycle—we always feel a little off-balance and insecure, but 'in the act of balancing we come alive.' She makes you want to get up and do something—try it out, make mistakes, laugh, play, and try it again." —Charles Junkerman, Associate Provost and Dean of Continuing Studies, Stanford University

"Reading even just a few pages of Patricia Madson's book might change your life forever. That's what has happened to me. These pages are chock-full of wisdom, clarity, and helpful techniques on enhancing spontaneity in everyday life. Read this book—you will be glad and so will everyone else in your life." —Nina Wise, author of A Big New Free Happy Unusual Life

"I have witnessed Patricia Madson's magic touch in both her classes and her performances. Her students often describe her as a 'goddess,' but that may be an understatement. I rejoice that her wisdom is now available to new audiences." —Philip G. Zimbardo, author of Psychology and Life and Shyness

"The premise of Patricia Madson's book is astonishing: to practice the basic rules of improvisational theater is to walk a path toward a spiritually satisfying life. Her underlying claim is simple and sound: if you are willing to be completely present, making full use of whatever happens, you will find goodness in any situation. This is a lucid, wise, and free-spirited book." —Norman Fischer, founder and teacher of the Everyday Zen Foundation
Advertisement