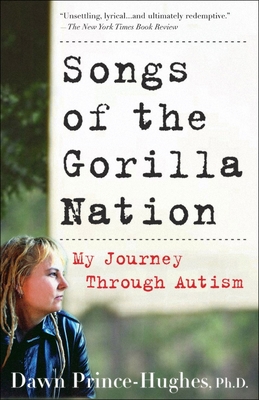 Songs of the Gorilla Nation (Paperback)
My Journey Through Autism
Broadway Books, 9781400082155, 240pp.
Publication Date: March 22, 2005
Other Editions of This Title:
Hardcover (3/1/2004)
* Individual store prices may vary.
Description
"This is a book about autism. Specifically, it is about my autism, which is both like and unlike other people's autism. But just as much, it is a story about how I emerged from the darkness of it into the beauty of it."

In this elegant and thought-provoking memoir, Dawn Prince-Hughes traces her personal growth from undiagnosed autism to the moment when, as a young woman, she entered the Seattle Zoo and immediately became fascinated with the gorillas.

Having suffered from a lifelong inability to relate to people in a meaningful way, Dawn was surprised to find herself irresistibly drawn to these great primates. By observing them and, later, working with them, she was finally able to emerge from her solitude and connect to living beings in a way she had never previously experienced.

Songs of the Gorilla Nation is more than a story of autism, it is a paean to all that is important in life. Dawn Prince-Hughes's evocative story will undoubtedly have a lasting impact, forcing us, like the author herself, to rediscover and assess our own understanding of human emotion.
About the Author
Dawn Prince-Hughes received her M.A. and Ph.D. in interdisciplinary anthropology from the Universität Herisau in Switzerland and is an adjunct professor of anthropology at Western Washington University. She is the author of Gorillas Among Us: A Primate Ethnographer's Book of Days and the editor of Aquamarine Blue 5: Personal Stories of College Students with Autism. She is on the advisory board of ApeNet, a nonprofit organization.
Praise For Songs of the Gorilla Nation: My Journey Through Autism…
"Lyrical, redemptive . . . Songs of the Gorilla Nation is as much a rhapsody to gorillas as it is an anatomy of autism." —The New York Times Book Review

"A primer on self-preservation and love." —O Magazine

"Gorilla Nation proves Prince-Hughes is a great writer—and an inspiration to anyone searching for a voice." —Seattle Magazine

"[An] affecting, thoughtful memoir . . . both delightfully quixotic and terribly sad. Although Prince-Hughes struggles with verbal and physical interactions, in print she finds touching eloquence and clarity." —Publishers Weekly