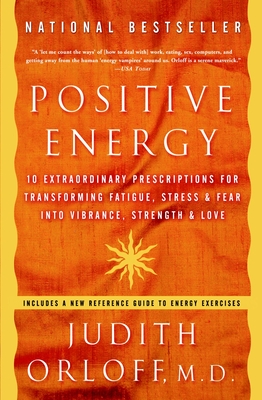 Positive Energy (Paperback)
10 Extraordinary Prescriptions for Transforming Fatigue, Stress, and Fear into Vibrance, Strength, and Love
Harmony, 9781400082162, 384pp.
Publication Date: September 20, 2005
Other Editions of This Title:
Digital Audiobook (1/7/2004)
Digital Audiobook (4/5/2004)
* Individual store prices may vary.
Description
The pioneer of Energy Psychiatry presents a complete program that will stop you from feeling constantly drained and enable you to live a more vibrant life.

Are you forever rushing through your day, fending off chronic exhaustion? Are you desperately overcommitted, afraid to say no? Do you want to feel well rested and ready to conquer each day with enthusiasm, but fall short time and time again? If so, you're the victim of a hidden energy crisis. Here, at last, is the complete prescription that will stop you from feeling constantly drained and enable you to live a more vibrant life.

The Positive Energy Program will help you:

• Generate positive emotional energy to counter negativity
• Design an energy-aware approach to diet, exercise, and health—and teach you how to avoid the "energetic overeating" that sabotages attempts to lose weight
• Awaken your intuition and rejuvenate yourself—and learn the cure for technodespair: overload from e-mails, computers, and phones
• Protect yourself from energy vampires with specific shielding techniques

Filled with clear instructions for the simple, powerful exercises Dr. Orloff practices herself and shares with her patients, Positive Energy is your tool kit for transforming fatigue, stress, and fear into an abundance of vibrance, strength, and love.
About the Author
Judith Orloff, M.D., a psychiatrist and an energy expert, is an assistant clinical professor of psychiatry at UCLA. She is the author of the bestsellers Dr. Judith Orloff's Guide to Intuitive Healing and Second Sight. She is an international lecturer on the interrelationship of intuition, energy, and medicine. Her work has been featured on NPR and CNN and in USA Today and O, The Oprah Magazine.
Praise For Positive Energy: 10 Extraordinary Prescriptions for Transforming Fatigue, Stress, and Fear into Vibrance, Strength, and Love…
"A 'let me count the ways' of [how to deal with] work, eating, sex, computers, and getting away from the human 'energy vampires' around us. Orloff is a serene maverick." —USA Today

"Dr. Orloff's book takes you on a wondrous journey through the mysteries of energy. A must-read for anyone who's rushed, stressed, or stopped by fear." —Deepak Chopra

"A brilliant, intriguing, and extremely practical book . . . Dr. Orloff is a true visionary." —Caroline Myss, Ph.D., author of Sacred Contracts