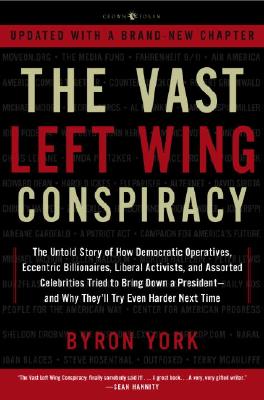 The Vast Left Wing Conspiracy: The Untold Story of the Democrats' Desperate Fight to Reclaim Power (Paperback)
The Untold Story of the Democrats' Desperate Fight to Reclaim Power
Three Rivers Press (CA), 9781400082391, 289pp.
Publication Date: January 24, 2006
* Individual store prices may vary.
or
Not Currently Available for Direct Purchase
Description
-We ARE building a Vast Left Wing Conspiracy.- With those words, the influential left-wing blogger Daily Kos confirmed the argument of National Review's Byron York in this fascinating and meticulously reported book. The Vast Left Wing Conspiracy provides a startling behind-the-scenes look at the well-oiled (and well-funded) political machine built by Democratic operatives, eccentric billionaires, liberal activists, and assorted celebrities. And in this newly updated paperback edition, York exposes how this powerful movement is redoubling its efforts for the 2006 elections, with its eye on the ultimate target: the White House in 2008. The Vast Left Wing Conspiracy is a stunning look at how the Left is radically remaking the American political scene.
About the Author
Byron York is the White House correspondent for National Review. He also writes a weekly column for The Hill. He lives in Washington, D.C.
Praise For The Vast Left Wing Conspiracy: The Untold Story of the Democrats' Desperate Fight to Reclaim Power…
"Beautifully written, exhaustively reported, seamlessly woven into a narrative that compels your attention from beginning to end . . . You should read York's book if you want to know what happened in the last presidential election. More important, you should read it if you want to know what to look for in the next." —Weekly Standard


"An engaging account of the partisan passions that made this 'the biggest, richest, and best organized movement in American political history' and that ultimately proved its undoing." —Wall Street Journal

"York's book is a gem. . . . It eschews name-calling and sloganeering in favor of reporting and storytelling." —National Review

"Byron York shines a brilliant light into the very liberal heart of darkness. An essential guide to how the Far Left tried to take power in 2004—and how it hopes to succeed in 2008." —David Frum, bestselling author of The Right Man

"Methodically and masterfully exposes the inner workings of the left-wing cabal that has taken over the Democratic Party. Three politically incorrect cheers for York!" —Laura Ingraham, bestselling author of Shut Up and Sing
Advertisement