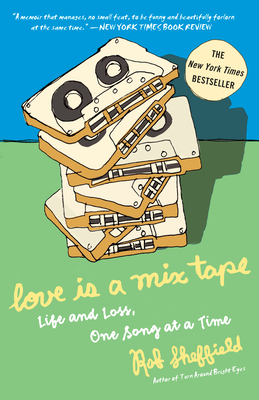 Love Is a Mix Tape (Paperback)
Life and Loss, One Song at a Time
Three Rivers Press, 9781400083039, 240pp.
Publication Date: December 4, 2007
* Individual store prices may vary.
Description
Mix tapes: Stick one into a deck and you're  transported to another time in your life. For Rob Sheffield, author of Turn Around Bright Eyes that time was one of miraculous love and unbearable grief. A time that spanned seven years, it started when he met the girl of his dreams, and ended when he watched her die
in his arms. Using the listings of fifteen of his favorite mix tapes, Rob shows that the power of music to build a bridge between people is stronger than death. You'll read these words, perhaps surprisingly, with joy in your heart and a song in your head—the one that comes to mind when you think of the love of your life.
About the Author
ROB SHEFFIELD is a contributing editor at Rolling Stone. He has been a rock critic and pop culture journalist for fifteen years, and has appeared on various MTV and VH1 shows. He lives in Brooklyn.


From the Hardcover edition.
Praise For Love Is a Mix Tape: Life and Loss, One Song at a Time…
"No rock critic- living or dead, American or otherwise- has ever written about pop music with the evocative, hyperpoetic perfectitude of Rob Sheffield. Love is a Mix Tape is the happiest, saddest, greatest book about rock'n'roll that I've ever experienced."
—Chuck Klosterman, bestselling author of Fargo Rock Cty, Sex, Drugs, and Cocoa Puffs, Killing Yourself to Live and Chuck Klosterman IV

"This is a lightly-handed, skillful and sincere celebration of pop, of love, sad songs, bad songs and the long, nearly unbearable ache of being a young widower. Witty and wise; a true candidate for the All-Time Desert Island Top 5 Books About Pop Music."
—Kirkus, starred review

"I can't think of many books as appealing as Rob Sheffield's Love is a Mix Tape; Sheffield writes beautifully about music, he's hilarious, and his story is alternatingly joyous and heartbreaking. Plus, everyone knows there's no better way to organize history and make sense of life than through the mix tape."
—Haven Kimmel, bestselling author of She Got Up Off the Couch, A Girl Named Zippy and The Solace of Leaving Early

"A celebratory eulogy of life 'in the decade of Nirvana.'"
—Publishers Weekly « starred review

"Sheffield's description of Renée's brilliant eccentricity and lovable quirkiness causes the reader to fall in love with her just as he does."
—Library Journal « starred review

"A glorious elegy to a pop culture-blessed decade and a tender, unforgettable tribute to the power of love"
—The Miami Herald

"Humorous, heartbreaking, and heroic."
—Entertainment Weekly

"Sheffield writes elegantly without turning it into a depressing tale of love stolen away too soon. . . . Wry and sardonic, even in his suffering, he's the tragic romantic who never gets overwrought."
—Newsweek

"The finest lines ever written about rock 'n' roll . . . Like that song on the radio, every word of Rob's book is true. Love is a mix tape."
— Rolling Stone

"Many of us use pop culture as a mirror of our emotional lives, but Sheffield happily walks right through the looking glass."
—Los Angeles Times