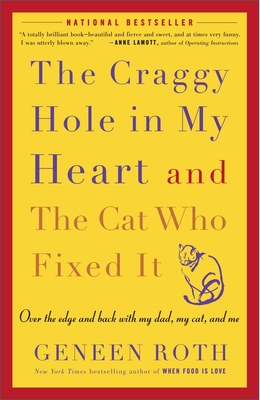 The Craggy Hole in My Heart and the Cat Who Fixed It: Over the Edge and Back with My Dad, My Cat, and Me (Paperback)
Over the Edge and Back with My Dad, My Cat, and Me
Three Rivers Press (CA), 9781400083190, 238pp.
Publication Date: June 28, 2005
Description
In this inspiring and joyous book, New York Times bestselling author Geneen Roth introduces her remarkable twenty-pound cat, Mister Blanche, and her beloved father, Bernard, as she takes readers deep into the story of how each finally taught her to love without reservation and accept that she might someday lose those whom she believed she couldn't live without. Told with warmth and wit, The Craggy Hole in My Heart and The Cat Who Fixed It is a poignant and funny story about how to live with love--and never live without it.
About the Author
Geneen Roth is the author of seven books, including the New York Times bestseller When Food Is Love. She has appeared on The Oprah Winfrey Show, Good Morning America, 20/20, and many other national television shows, and her work has been featured in numerous publications. She lives in northern California, writes a column for Prevention magazine, and maintains an active lecture and workshop schedule.
Praise For The Craggy Hole in My Heart and the Cat Who Fixed It: Over the Edge and Back with My Dad, My Cat, and Me…
"A totally brilliant book—beautiful and fierce and sweet and, at times, very funny. I was utterly blown away." —Anne Lamott, author of Operating Instructions

"Wise, loving, tough, and tender. A beautiful book. Geneen knows how to nourish the heart!" —Jack Kornfield, author of A Path with Heart

"Read it, laugh with it, and become a little more of a human being." —Thomas Moore, author of Care of the Soul and Dark Nights of the Soul

"Roth takes us on a deep, joyful, provocative, and ultimately nourishing journey. I couldn't put it down from beginning to end." —Justine Willis Toms, New Dimensions Radio, coauthor of True Work
Advertisement