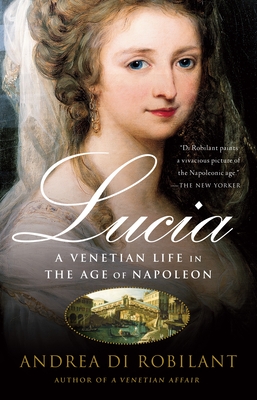 Lucia
A Venetian Life in the Age of Napleon
Paperback

* Individual store prices may vary.
Other Editions of This Title:
Digital Audiobook (4/27/2008)
MP3 CD (4/28/2008)
Compact Disc (4/28/2008)
Description
In 1787, the beautiful Lucia is married off to Alvise Mocenigo, scion of one of the most powerful Venetian families. But their life as a golden couple will be suddenly transformed when Venice falls to Bonaparte. We witness Lucia's painful series of miscarriages and the pressure on her to produce an heir; her impassioned affair with an Austrian officer; the glamour and strain of her career as a hostess in Vienna; and her amazing firsthand account of the defeat of Napoleon in 1814. With his brave and articulate heroine, Andrea di Robilant has once again reached across the centuries, and deep into his own past, to bring history to rich and vivid life on the page.
Praise For Lucia: A Venetian Life in the Age of Napleon…
"Di Robilant paints a vivacious picture of the Napoleonic age." —The New Yorker"What an amazing life, what a great story! And it's so deftly told by Lucia's great-great-great-great-grandson, who rummaged through his family's papers and found genuine treasure." —The Washington Post Book World"Fascinating. . . . As with many engaging tales, this one proved elusive and complex-perfect fodder for a historian of di Robilant's imaginative bent." —W Magazine"A rare treat. . . . Filled with the pageantry of the aristocracy and the political intrigue of countries at war. . . . History buffs should add this volume to their list of must-reads." —The Free Lance-Star (Newark)"Lucia in the Age of Napoleon is less a biography than a ghost story; unsettling, exciting, almost unbelievable in its immediacy. Lucia will become as vital a part of Venetian history as Casanova, or Byron himself, or any of the Mocenigo doges who lie entombed in San Giovani e Paulo, 'each face finer & more beautiful than the other', as Effie Ruskin put it, 'even in old age'." —Frances Wilson, Sunday Telegraph"Lucia's life is an inspired choice for a parable of the end of the Venetian republic … Her letters to her [sister Paolina] paint Napoleon's Europe in all its grand and bloody colours … Andrea Di Robilant's strengths are in his portraits of Venetians during their city's worst times. He's not afraid to criticise Venice for the feckless policy of unarmed neutrality, the tepid resistance and the gibbering compliance that left her vulnerable to the steel-trap war-machines of France and Austria. Venice's mistake, like Lucia's, was to believe that she was beloved. For Napoleon, Venice was a trinket. As he passed through, he ransacked her art and archives with a sharp eye and a cool heart. To see that process personified in a flawed and fascinating woman makes for a deeply engaging read." —Independent on Sunday"Well-composed . . . the author's meticulous attention to personal detail yields compelling historical character sketches." —Kirkus Reviews
Vintage, 9781400095117, 384pp.
Publication Date: February 10, 2009
About the Author
Andrea Di Robilant was born in Italy and educated at Le Rosey and Columbia University, where he specialized in international affairs. His first book, A Venetian Affair, was published by Knopf in 2003. He currently lives in Rome with his wife and two children and works for the Italian newspaper La Stampa.