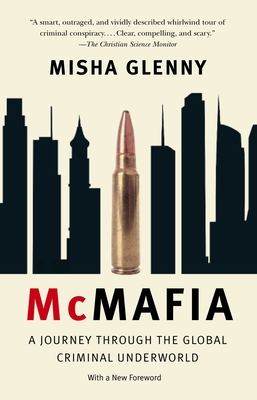 McMafia (Paperback)
A Journey Through the Global Criminal Underworld
Vintage, 9781400095124, 420pp.
Publication Date: April 7, 2009
Other Editions of This Title:
Digital Audiobook (4/7/2008)
Digital Audiobook (4/7/2008)
Hardcover (4/8/2008)
Paperback (8/1/2009)
Paperback (7/1/2008)
* Individual store prices may vary.
Description
Misha Glenny's groundbreaking study of global organized crime is now the inspiration for an 8-part AMC crime drama starring James Norton (War and Peace), Juliet Rylance, and David Strathairn. 

With the collapse of the Soviet Union, the fall of the Berlin Wall, and the deregulation of international financial markets in 1989, governments and entrepreneurs alike became intoxicated by dreams of newly opened markets. But no one could have foreseen that the greatest success story to arise from these events would be the worldwide rise of organized crime. Today, it is estimated that illegal trade accounts for one-fifth of the global GDP.

In this fearless and wholly authoritative investigation of the seemingly insatiable demand for illegal wares, veteran reporter Misha Glenny travels across five continents to speak with participants from every level of the global underworld--police, victims, politicians, and even the criminals themselves. What follows is a groundbreaking, propulsive look at an unprecedented phenomenon from a savvy, street-wise guide.
About the Author
MISHA GLENNY is the author of DarkMarket, McMafia, The Rebirth of History, The Fall of Yugoslavia (which won the Overseas Press Club Award in 1993 for Best Book on Foreign Affairs) and The Balkans: Nationalism, War, and the Great Powers, 1804–1999. He was a BBC Central Europe correspondent—he covered the fall of Communism and the wars in the former Yugoslavia—and has been regularly consulted by the U.S. and European governments on major policy issues. He lives in London.
Praise For McMafia: A Journey Through the Global Criminal Underworld…
"A smart, outraged, and vividly described whirlwind tour of criminal conspiracy…. Clear, compelling, and scary."
—The Christian Science Monitor
 
"Glenny's obsessive interest in his subject is infections, and his colorful writing and eye for detail give [McMafia] the feel of a juicy tell-all."
—The Washington Post
 
"Riveting. . . . Provides insightful sociological perspectives about why certain nations spawn especially widespread and virulent organized crime networks."
—The Seattle Times
 
"Daring. . . . A bravura piece of globe-trotting reportage."
—San Francisco Chronicle
 
"A terrifying tour of the violent underworld of globalized crime."
—New York Post
 
"Eye-opening…Engrossing."
—The Miami Herald
 
"A vividly recounted journey through a dozen of the world's most potent gangs, cartels and transnational mafias."
—The Wall Street Journal
 
For anyone who wants to understand the 21st century, this illuminating and page-turning book is essential reading.
—Emma Thompson
 
"'Behind every great fortune,' said Balzac, 'there lies a great crime.' Misha Glenny has updated this aperçu for our own time."
—Christopher Hitchens, author of God is Not Great
 
"A riveting and chilling journey . . . Readers yearning for a deeper understanding of the real-life, international counterparts to The Sopranos need look no further than Glenny's engrossing study."
—Publishers Weekly
 
"In this well-researched and riveting account, Glenny does for crime what he did for the Balkans. He dissects the international criminal organizations that run much of the world's economy and explains how the criminal underworld has both benefited from and contributed to globalization."
—Joseph Stiglitz, author of Making Globalization Work