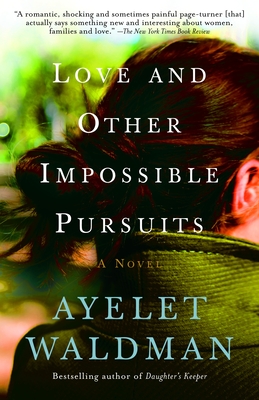 Love and Other Impossible Pursuits
Paperback

* Individual store prices may vary.
Other Editions of This Title:
Paperback (1/1/2007)
Description
In this moving, wry, and candid novel, widely acclaimed novelist Ayelet Waldman takes us through one woman's passage through love, loss, and the strange absurdities of modern life.Emilia Greenleaf believed that she had found her soulmate, the man she was meant to spend her life with. But life seems a lot less rosy when Emilia has to deal with the most neurotic and sheltered five-year-old in New York City: her new stepson William. Now Emilia finds herself trying to flag down taxis with a giant, industrial-strength car seat, looking for perfect, strawberry-flavored, lactose-free cupcakes, receiving corrections on her French pronunciation from her supercilious stepson – and attempting to find balance in a new family that's both larger, and smaller, than she bargained for. In Love and Other Impossible Pursuits Ayelet Waldman has created a novel rich with humor and truth, perfectly characterizing one woman's search for answers in a crazily uncertain world.
Praise For Love and Other Impossible Pursuits…
"A romantic, shocking . . . page-turner [that] actually says something new and interesting about women, families and love." –The New York Times Book Review"Absorbing. . . . Compelling and artfully drawn. . . . The novel is beautifully paced and unfolds seamlessly." –The Washington Post"A smart and finally affecting portrayal of a woman working her way out of her own grandiose self-image into something like real love." –New York"The emotions Waldman instills in her protagonist are visceral and convincing. . . . [Emilia's] always sharp, wickedly funny, opinionated and cheerfully bitter, lending depth and energy to this wise, entertaining book." –San Francisco Chronicle
Anchor, 9781400095131, 352pp.
Publication Date: January 9, 2007
About the Author
Ayelet (pronounced "I yell it") Waldman is the author of Daughter's Keeper and of the Mommy-Track mystery series. Her writing has appeared in The New York Times, The Believer, Child magazine, and other publications, and she has a regular column on Salon.com. She and her husband, the novelist Michael Chabon, live in Berkeley, California, with their four children. www.ayeletwaldman.com
What were your initial impressions of Emilia? In what way did your image of her change as you learned more about her? As she narrates, is she always honest with us and with herself? How does she balance humor and intensity when describing what it's like to be a woman on the edge?
Discuss the many forms of love described in the novel. Is love ever a truly impossible pursuit? What factors make it seem that way to Emilia?
How does Emilia cope with being a pariah among the other preschool parents? What are the criteria within this community for determining whether a woman is a good mother? What purpose does their competitive attitude serve? What does Sonia seem to think about the culture of American mommyhood?
What does Emilia's own mother teach her about being a parent? How does Emilia's mom compare to Jack's mother from Syria?
Discuss the author's choice of New York, and Central Park in particular, as the backdrop for much of the novel. How does Emilia perceive the wonders and dangers of this locale? What fragments of her childhood can she revive in the park?
Is the tension between Jack and Emilia solely related to the loss of Isabel and the presence of a testy ex-wife? How might the early months of their marriage have gone in the absence of such agonies? Did their relationship change very much as they went from being lovers to being spouses?
What seems to account for the vast differences between Emilia and her sister Allison? Out of the many parenting styles presented in the novel, which seems to be the ideal? In what way are parenting styles reflective of an adult's overall outlook on life, as much as his or her concern for a child? How do you personally determine when a level of caution has become irrational and unrealistic?
What do you make of William's seemingly nonchalant response to tragedy, such as loudly announcing the absence of the Twin Towers while crossing the Brooklyn Bridge? What do children see (or not see) compared to adults? What did you make of his attempts to draw a family picture and his depiction of Isabel as an angel?
Do you agree with Jack's assertion that Emilia married him because she was trying to become her father? Do you believe his statement that he married Carolyn because he loved her? Do you agree with his friends who believe that age had everything to do with his attraction to Emilia? What ultimately is the basis for deep romantic attraction?
What keeps Emilia from experiencing the Walk to Remember in the same way that the other families experience it? Does the walk nonetheless have healing results for her?
After her blowout argument with Jack, Emilia takes refuge in her best friend, Simon, and a jaunt to Barneys. What makes her friendship with Simon such a lasting one? Why is she in some ways more comfortable with him than with Mindy? Why is Simon the ideal person to accompany her as she faces her new waistline while shopping?
How significant is Judaism to Emilia's identity? How do she and William contend with issues of spiritual traditions? What other elements shape Emilia's sense of self?
How would you characterize Emilia's father? Do you empathize with his ex-wife's desire to rekindle a romance with him?
Do Emilia and William share any common personality traits? Is she genuinely reckless or insensitive to his needs? Why is it so easy for Jack to believe the accusations that Emilia is not fit to care for his son?
What motivates Carolyn to provide Emilia with pathological evidence that Isabel's cause of death was Sudden Infant Death Syndrome? Were you happy to see Carolyn achieve happiness in the end with a man who seems suited to her and a baby on the way?
Emilia gets her hands on numerous guides to stepparenting and even pays a visit to William's therapist. What wisdom does Love and Other Impossible Pursuits offer stepparents?
At the end of the novel, Emilia confirms her father's advice about rational thinking; she says that mystical ideas and hopes interfered with her marriage to Jack. Do you agree with her? Is the concept of bashert, the notion of meant-to-be, unrealistic?
(Discussion questions courtesy of Doubleday.)
or
Not Currently Available for Direct Purchase