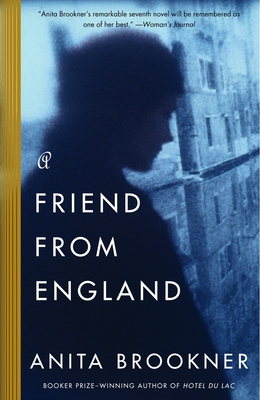 A Friend from England (Paperback)
Vintage Contemporaries, 9781400095216, 205pp.
Publication Date: July 12, 2005
Description
In one of her most delicate and suspenseful novels to date, Anita Brookner brings us an exquisite story of friendship and duty. Rachel Kennedy and Oscar Livingston were not precisely friends or family. Rachel had been acquanted with Oscar for some time, first as her father's accountant, and then as her own. Part owner of a London bookshop, Rachel is thoroughly independent and somewhat distant, determinedly restrained in her feelings for others, but above all responsible. And it is this trait that leads Oscar and his wife Dorrie to seek out Rachel as a mentor for their twenty-seven-year-old daughter, Heather. Yet when Heather seems poised to make an unsuitable romantic decision, Rachel decides to speak out and intervene, causing an unwitting and devastating insight.
About the Author
Anita Brookner was born in London and, apart from several years spent in Paris, has lived there ever since. She trained as an art historian and taught at the Courtauld Institute of Art until 1988. A Friend from England is her seventh novel.
Praise For A Friend from England…
"Anita Brookner's remarkable seventh novel will be remembered as one of her best." –Woman's Journal"What increasingly marks Anita Brookner out as an especially fine novelist . . . is the marriage in her work between beauty of expression and infinite emotional pain, mitigated by irony. The prose rings so very true; her sentences have an effortless design." –The Spectator"Admiration for the sureness of touch with which these two women and their little circle are brought to life is, I would guess, likely to be unanimous." –Financial Times"Sort of sneaks up on the reader, providing a deep, careful, haunting exploration of the human personality." –Elle"Sparkling readability." –Mail on Sunday"Brookner is an artist of an exceptional purity." –The New York Times"Anita Brookner works a spell on the reader; being under it is both an education and a delight." –The Washington Post Book World"Brookner is a writer of great skill and precision. Passages of brilliant writing abound, hard-won insights that startle us with Brookner's clarity and succinct intelligence."–Los Angeles Times Book Review"Few contemporary novelists can match Ms. Brookner's consistently high level of achievement: the penetration of her vision, the sense of conviction in what she is doing, and the unforced elegance of her writing." –The Wall Street Journal"Anita Brookner is a novelist of astonishing technical skill, and A Friend from England is a very good book . . . if people who talk of her 'limitations' had themselves one tenth of her scope, ah, what critics they would be." –The Independent (London)
Advertisement