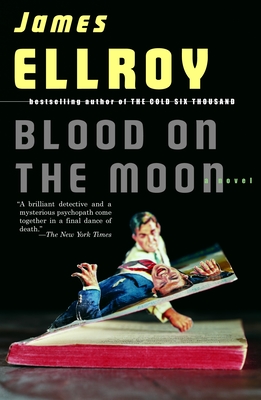 Blood on the Moon (Detective Sergeant Lloyd Hopkins Series #1) (Paperback)
Vintage, 9781400095285, 272pp.
Publication Date: May 10, 2005
* Individual store prices may vary.
Description
Detective Sergeant Lloyd Hopkins can't stand music, or any loud sounds. He's got a beautiful wife, but he can't get enough of other women. And instead of bedtime stories, he regales his daughters with bloody crime stories. He's a thinking man's cop with a dark past and an obsessive drive to hunt down monsters who prey on the innocent.

Now, there's something haunting him. He sees a connection in a series of increasingly gruesome murders of women committed over a period of twenty years. To solve the case, Hopkins will dump all the rules and risk his career to make the final link and get the killer.
About the Author
James Ellroy was born in Los Angeles in 1948. His L.A. Quartet novels–The Black Dahlia, The Big Nowhere, L.A. Confidential, and White Jazz–were international bestsellers. American Tabloid was Time's Novel of the Year for 1995; his memoir My Dark Places was a Time Best Book of the Year and a New York Times Notable Book for 1996; his most recent novel, The Cold Six Thousand, was a New York Times Notable Book and a Los Angeles Times Best Book of the Year for 2001. He lives on the California coast.
Praise For Blood on the Moon (Detective Sergeant Lloyd Hopkins Series #1)…
"A brilliant detective and a mysterious psychopath come together in a final dance of death." --The New York Times

"One of the great American writers of our time." — Los Angeles Times

"Ellroy is either our greatest obsessive writer or our most obsessive great writer. Either way, he is turning the crime novel's mean streets into superhighways." —Financial Times

"Nobody in this generation matches the breadth and depth of James Ellroy's way with noir." — Detroit News

"A blood poet who writes as chain saws crank, Ellry has vigorously redefined the well-shadowed turf of contemporary crime fiction." --The Atlanta Journal-Constitution

"His spare noir style . . . hits like a cleaver but . . . is honed like a scapel." --Chicago Tribune

"Ellroy's characters are drawn with a firm brush, he has an excellent line in flinty, sardonic dialogue, and you terribly want to know how the whole thing is going to work out in the end." --The New York Times

"Our best living mystery writer. . . . Literate, suspenseful, honest. . . . His pages crackle with maniac energy. . . . Ellroy captures the vocabulary, the rituals, the smells and rhythms and colors of real people living on the edge. . . . Nobody since Chandler has evoked so perfectly the seamy side of LA." --Austin Chronicle

"Bold, electrifying. . . . Ellroy strips prose to its raw, gleaming bone. . . . James Ellroy is an American original, a sophisticated primitive as smooth as the snick-snick! of a pump shotgun and as subtle as the inevitable blast." --The San Diego Union-Tribune

"Ellroy's writing is powerful . . . his pacing relentless . . . his characters real. He is a major talent." --Miami Herald

"More than any other contemporary author, Ellroy gets inside the skull of the sadistic psychopath. . . . A true original." --Jonathan Kellerman
Book Videos