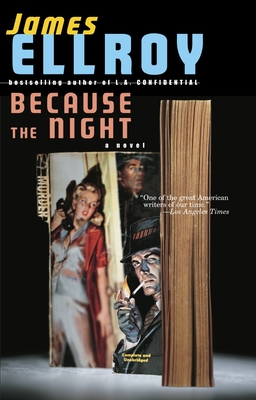 Because the Night (Detective Sergeant Lloyd Hopkins Series #2) (Paperback)
Vintage, 9781400095292, 288pp.
Publication Date: October 18, 2005
* Individual store prices may vary.
Description
A botched liquor store heist leaves three grisly dead. A hero cop is missing. Nobody could see a pattern in these two stray bits of information–no one except Detective Sergeant Lloyd Hopkins, a brilliant and disturbed L.A. cop with an obsessive desire to protect the innocent. To him they lead to one horrifying conclusion--a killer is on the loose and preying on his city. From the master of L.A. noir comes this beautiful and brutal tale of a cop and a criminal squared off in a life and death struggle.
About the Author
James Ellroy was born in Los Angeles in 1948. His L.A. Quartet novels–The Black Dahlia, The Big Nowhere, L.A. Confidential, and White Jazz–were international bestsellers. American Tabloid was Time's Novel of the Year for 1995; his memoir My Dark Places was a Time Best Book of the Year and a New York Times Notable Book for 1996; his most recent novel, The Cold Six Thousand, was a New York Times Notable Book and a Los Angeles Times Best Book of the Year for 2001. He lives on the California coast.
Praise For Because the Night (Detective Sergeant Lloyd Hopkins Series #2)…
"One of the great American writers or our time." — Los Angeles Times

"A blood poet who writes as chain saws crank, Ellroy has vigorously redefined the well-shadowed turf of contemporary crime fiction." —The Atlanta Journal-Constitution

"An undeniably artful frenzy of violence, guilt, and unappeased self-loathing. Ellroy's crime fiction represents a high mark in the genre." --Newsday

"Ellroy rips into American culture like a chainsaw in an abbatoir." --Time

"He's forged a style uniquely his own. Energetic and abrasive, it comes at us like a speed freak. . . . The power and pull of Ellroy's writing is unmistakable." --Los Angeles Times Book Review

"Ellroy is the author of some of the most powerful crime novels ever written." --The New York Times

"Garrotte-tight prose. . . . [Ellroy is] a force of nature, stringing together words into barbed-wire lariats which he then uses to choke the bejesus out of you. . . . His novels are all muscle, zero fat." --Austin Chronicle

"Memorable, stunning, incisive. . . . It is possible, I think, to make the argument that in the past couple of decades, Mr. Ellroy has been the most influential writer in America." --Otto Penzler, The New York Sun

"Nobody in this generation matches the breadth and depth of James Ellroy's way with noir." --Detroit News

"Ellroy sprays declarative sentences like machine-gun bullets, blasting to kingdom come all notions of justice, heroism, and simple decency." --Entertainment Weekly

"[Ellroy] can make the night world of sleaze and street monsters come alive on the page." --St. Louis Globe-Democrat
Book Videos