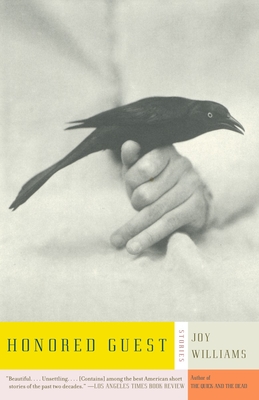 Honored Guest (Vintage Contemporaries)
Paperback

* Individual store prices may vary.
Description
With her singular brand of gorgeous dark humor, Joy Williams explores the various ways–comic, tragic, and unnerving—we seek to accommodate diminishment and loss. A masseuse breaks her rich client's wrist bone, a friend visits at the hospital long after she is welcome, and a woman surrenders her husband to a creepily adoring student. From one of our most acclaimed writers, Honored Guest is a rich examination of our capacity for transformation and salvation.
Praise For Honored Guest (Vintage Contemporaries)…
"Beautiful. . . . Unsettling. . . . [Contains] among the best American short stories of the past two decades." –The Atlantic Monthly

"The short stories in Joy Williams's Honored Guest are so vibrant and alive they have heartbeats, the prose so electric and dazzling it makes the pulse race." –Vanity Fair

"By all means read, and re-read, these subtle and touching and deceptively funny and sometimes darkly magical stories." –St. Louis Post-Dispatch

"A brilliant spawn of Raymond Carver and Flannery O'Connor, Joy Williams blends mordant wit, uncanny characters, and weirdly familiar landscapes and locales. . . . By turns these narratives soothe, then surprise, then shock with jolts of recognition, recoil, and naked redemption." –Elle
"Joy Williams wastes not a word in the stories that she tells. . . . Phenomenally interesting. . . . Miraculously and intelligently weird." –Chicago Tribune

"In wonderful, stark relief, Williams gives us a glimpse into this pliability of the human heart, its marvelous ability to withstand adversity and accommodate whatever comes next." –Los Angeles Times Book Review
"If Joy Williams's publisher made cigarettes rather than story collections it would be required to slap a consumer warning on her latest collection, Honored Guest. . . . [It's] narcotic–alluring precisely because it is toxic, dangerous. And Williams is so good she merely has to wave her characters' melancholia under our noses and we crave more." –The Philadelphia Inquirer
"Darkly enticing and intuitive. . . . In Williams's hands, the inevitability of death is both poignant and, at times, comfortably humorous." –Rocky Mountain News
"The unexpected is the only thing that can be counted on–other than the author's brilliant prose, acerbic humor and implicit biting commentary on the state of our world today." –Santa Fe New Mexican
"Captur[es] the casual brutality of everyday life with a combination of grim humor, macabre incident and an ironic eye. . . . There's a thrilling appeal, a perverse pleasure, in reading Williams' cold take on things. . . . Fascinating." –The Oregonian

"Each [story] spins with the searing comedy and blunt drama of the gallows. . . . Williams is a deeply compassionate writer, and in these luminous, feeling moments, the specter of another writer from another century and another country rises: Anton Chekhov, the book's honored ghost." –Time Out New York
"Joy Williams's collection is an engrossing and perceptive work." –Richmond Times-Dispatch
"[Williams] balances horror and humor with uncanny skill and laces her stories with compassion. . . . Her stories stick in the mind like burrs." –The Columbus Dispatch
"[A] darkly humorous, potent collection." –Anniston Star
"There is much artistry to be found in the short story. . . . Especially when it is in the hands of an artist like Joy Williams." –Tulsa World
"Of the many qualities of her prose–clarity, economy, intelligence, complete mastery of the sentence–the most conspicuous is authority. . . . Joy Williams's stories are illuminating, burning, intelligent and large." –Books and Culture
Vintage, 9781400095520, 224pp.
Publication Date: November 8, 2005
About the Author
Joy Williams is the author of four novels–the most recent, The Quick and the Dead, was a finalist for the Pulitzer Prize in 2001–and three other collections of stories, as well as Ill Nature, a book of essays that was a finalist for the National Book Critics Circle Award for criticism. Among her many honors are the Rea Award for the short story and the Strauss Living Award from the American Academy of Arts and Letters. She lives in Key West, Florida, and Tucson, Arizona.